Former First Lady Nancy Reagan dies
Reuters | 3/11/2016, 11:37 a.m.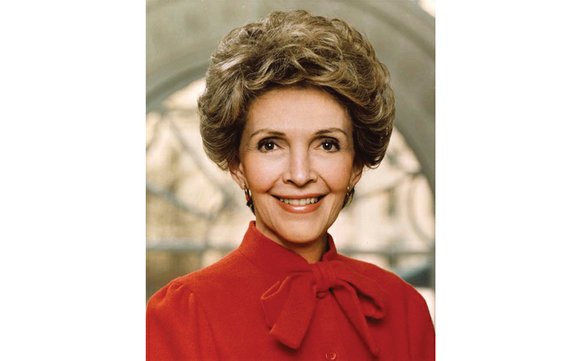 By Will Dunham
Reuters
Nancy Reagan, the former actress who was fiercely protective of her husband, President Ronald Reagan, through a Hollywood career, eight years in the White House, an assassination attempt and his Alzheimer's disease, died Sunday, March 6, 2016, at her Los Angeles home.
She was 94. The cause of death was congestive heart failure, said a spokeswoman for the Reagan Presidential Library in Simi Valley, Calif.
"She is once again with the man she loved," her stepson, Michael Reagan, wrote on Twitter.
Mrs. Reagan became one of the most influential first ladies in U.S. history during her husband's presidency from 1981 to 1989. Presidenr Reagan, a Republican who affectionately called her "Mommy" while she called him "Ronnie," died in 2004 after a long struggle with Alzheimer's.
As news of Mrs. Reagan's death spread, tributes poured in from Washington to Hollywood. President Obama, a Democrat, and First Lady Michelle Obama said Mrs. Reagan redefined the role of first lady.
"Nancy Reagan once wrote that nothing could prepare you for living in the White House," the Obamas said in a statement issued Sunday. "She was right, of course.  But we had a head start because we were fortunate to benefit from her proud example, and her warm and generous advice."
The ghost of President Reagan, who remains deeply popular among GOP voters, has hovered over the campaign as in previous years, with party candidates vying to claim the mantle of his legacy.
A Republican debate in September took place at the Reagan Presidential Library, with an Air Force One jet providing a backdrop.
Mrs. Reagan will be buried next to her husband Friday at that library. The public will have a chance to pay their respects prior to the private funeral service, with a public viewing Wednesday and Thursday.
The former Nancy Davis was a Hollywood actress during the 1940s and 1950s and married Ronald Reagan, a prominent film actor, in 1952. She then served as First lady of California during her husband's stint as governor from 1967 to 1975, before moving into the White House after his victory over incumbent Democratic President Jimmy Carter in 1980.
Her most publicized project as first lady was the "Just Say No" anti-drug campaign. After her husband developed Alzheimer's disease, she became an advocate for discovering a cure.
As President Reagan's wife, political partner and adviser, she became one of America's most potent first ladies, alongside the likes of Franklin Roosevelt's wife, Eleanor, Woodrow Wilson's wife, Edith, and Bill Clinton's wife, Hillary.