Dementia and religion: Inside a church's Alzheimer's support group
Adelle M. Banks/Religion News Service | 6/21/2019, 6 a.m.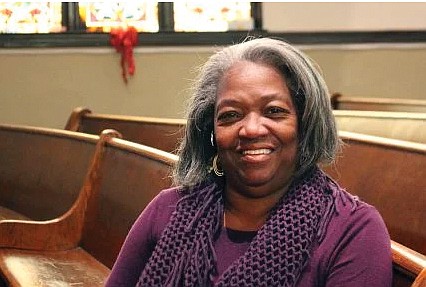 LOUISVILLE, KY.
They sat in a circle in a room usually used by high schoolers and talked about the people they loved who no longer recognized them or who had died forgetting the names of family caregivers in their last days.
The Alzheimer's disease caregiver support group on a campus of Southeast Christian Church started with a devotional lesson referring to Charlie Brown pal Linus' lack of fear as he told the story of the birth of Jesus.
"It's only through our relationship with Christ that we can have the inner peace that can help us just get through the day," said a facilitator before the group of 10 bowed their heads for an opening prayer.
Her petition acknowledged the challenges of both caring for someone and coping with the "job" being done if that someone had recently died.
The monthly caregivers gathering at this evangelical megachurch is among the hundreds of support groups held at houses of worship and affiliated with the Alzheimer's Association. From the nearby University of Louisville to the University of Exeter, researchers have found that people caring for loved ones with dementia benefit from supportive social networks. Church and association leaders say they recognize that people may feel more at ease disclosing their difficult circumstances within a congregational setting.
"We know that one of the first places many families and individuals may turn is to their faith community, so it is important that faith leaders know about our services and resources," said Ruth Drew, director of the association's information and support services. "We also strive to have volunteers engaged in these communities to give people a chance to access resources and guidance in a place where they feel safe and comfortable."
The Alzheimer's Association said in its 2018 report that nearly half of all caregivers who provide help to older adults do so for someone with Alzheimer's or another form of dementia. It is a condition that has afflicted everyone from retired U.S. Supreme Court Justice Sandra Day O'Connor to Harvard Law School professor Charles Ogletree, who announced his diagnosis at an African Methodist Episcopal Church bicentennial event.
The U.S. Centers for Disease Control and Prevention estimates that more than 5.7 million Americans have Alzheimer's. Experts predict twice as many Americans 65 and older will have the disease by 2040.
At the Southeast Christian gathering, the group met for an hour and a quarter, their sniffles mixed with their sharing.
One man passed around an album of photos of his wedding after describing his wife, who is in the late stages of Alzheimer's. Members of the group joked about his hair before it was gray and praised him for standing by his wife as she no longer remembers who he is. The group encouraged him to draft a list of friends he can meet for coffee while his daughters watch his wife.
But he said most of his friends are dead.
One woman, whose father had died the month before, struggled to figure out what she might do next. Others spoke of family division over a mother's dementia. A woman said she fixed her mother's hair and then took a photo of her mom. She then shared the photo with her brother, who can't handle visiting their mom. At least that way he could see how she looks.