GRTC driver raises safety concerns after stabbing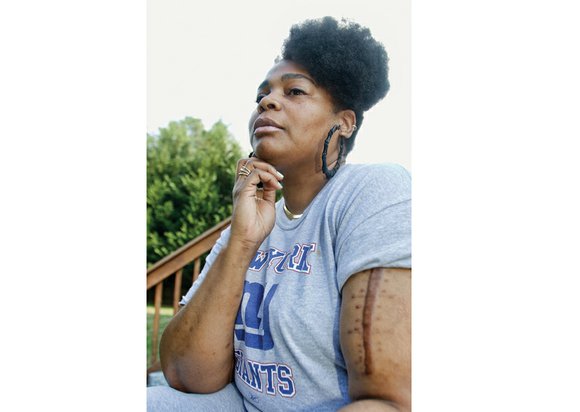 Ms. Pace said the company provides other safety tools for drivers. For example, she said that each bus is equipped with emergency and priority buttons a driver can press to quickly connect with dispatch if they feel unsafe.

The emergency button turns on audio in the bus and broadcasts it so that a dispatcher can immediately hear what is happening and assist, she said.
Ms. Braxton said neither of the buttons worked when she was attacked. Other drivers have told her of similar problems.
She said the attack took place around 9:30 p.m. She had just made her last stop and was headed back to the garage. Just one passenger was left, she said.
The passenger began demanding that she take him back to the Azalea Avenue stop where she had picked him up, about a mile north.
When she refused, she said the man became more and more angry and began cursing and verbally abusing her.
Increasingly frightened, Ms. Braxton said, "I kept pushing the buttons and pushing the buttons, but I didn't get any response."
Feeling isolated, she acknowledges she left her seat and got into an altercation with the man in trying to get him off the bus.
She said help came after the man stabbed her. She managed to call 911, using her cell phone to summon police and emergency medical personnel. A dispatcher finally responded after she called police, she said.
Ms. Pace, however, said GRTC found no evidence that Ms. Braxton pushed the emergency call button.

Instead, Ms. Braxton pushed the lower priority buttons, said Ms. Pace, who acknowledged that it can take several minutes or more for a dispatcher to clear an earlier call and respond.

Ms. Pace noted that another way GRTC tries to keep drivers safe is with security cameras. They provide video and audio, she said, which is one reason police were able to quickly identify and capture Ms. Braxton's attacker.
Video from the cameras is reviewed whenever there is an incident or complaint, whether filed by an operator or a customer, Ms. Pace said.
Ms. Braxton hopes that speaking out about the attack she survived will encourage other drivers to press the company to put more attention on safety.
"I'm an example of what can happen when the safety and protection of drivers does not get proper attention."