City changes
Richmond population grows; it's no longer majority black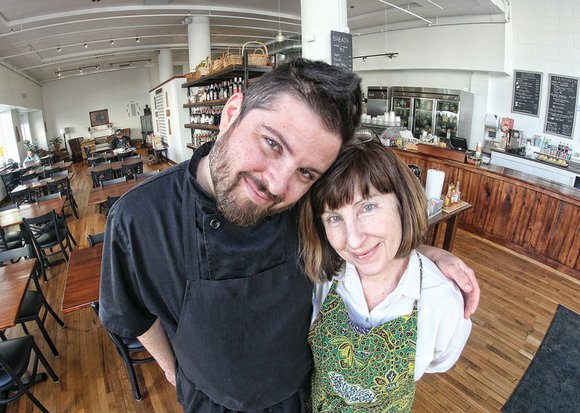 After growing up in Richmond, Patti B. Wright joined the wave of people leaving the city for the suburbs when her son, Joshua M. "Josh" Wright, was a toddler.
But now that her son is grown, she felt "it no longer made sense to live out in the country at the end of a dirt road."
That's why the 63-year-old retired schoolteacher sold her three-bedroom cottage near Pocahontas State Park in Chesterfield County and bought an apartment in the former Miller & Rhoads building in the heart of Downtown.

"I love it," she said. Plus, her new home sits just across the street from Pop's Market, the relaxed café her son opened last year and where she now pitches in to help make it a success.
Ms. Wright is part of the returning wave of "empty-nesters," who along with a wave of newcomers with a penchant for urban living, have helped swell Richmond's population to its highest level in 36 years — a big reason the boom in apartment and home construction is continuing in the capital city.
In data released last week, the Census Bureau estimated 220,289 people live in Richmond as of 2015, the most since at least 1979. The numbers confirm a Free Press projection published last summer.
The new estimate indicates the number of city residents has increased by 16,075 people, or 7.9 percent, since the last official count in 2010. At that time, 204,214 people were counted as living in Richmond — making it the state's fourth most populous city after Virginia Beach, Norfolk and Chesapeake.
Based on the data, the increase in Richmond's population is being fueled largely by growth in the white and Latino populations, creating a more diverse city.
As a result, African-Americans, who are estimated to number 108,293 people, no longer are a majority in Richmond.
Since 2010, the African-American population has slipped from 50.6 percent of the population to 49.7 percent of city residents, one of the lowest percentages since the 1980s.
According to the census, between 2010 and 2014, the percentage of people estimated to be white, including Latinos, rose from 40.8 percent to 44.7 percent, or by about 14,000 people to reach 97,380 people.
Only when the 2.2 percent of people who consider themselves being of two or more races are included does the African-American population comprise a slight majority.
"I don't feel that makes much of a difference" whether Richmond is majority African-American or not, said former state Sen. Henry L. Marsh III, who made history in 1977 when he became the city's first black mayor.
At the time, he was one of the five African-Americans who formed the first nonwhite majority on Richmond City Council that ushered in changes in employment and policies that transformed City Hall.
Mr. Marsh, a retired civil rights attorney, went on to serve Richmond in the state Senate for 22 years and now is a member of the state Alcoholic Beverage Control Board. He said times have changed. He noted that the African-American community that was once concentrated in the city has spread into Henrico and Chesterfield counties, making the region more diverse than it was in 1977.