Personality: Grindly Johnson
Spotlight on Women Who Move the Nation Award winner
3/31/2016, 8:46 p.m.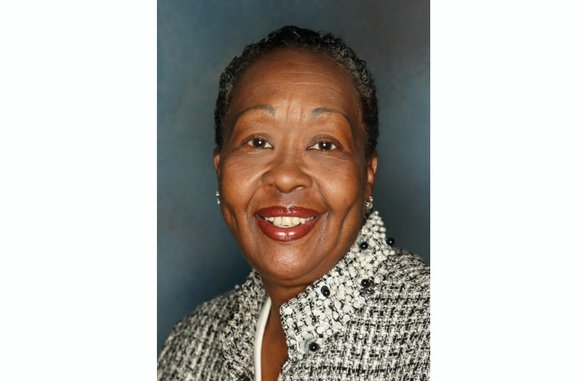 Grindly Johnson is on a mission to increase business and job opportunities for women in the transportation industry.
"Women need to be involved in transportation because we are talented and make exceptional leaders," says Ms. Johnson, who is Virginia's deputy secretary of transportation.
"Women have a lot to contribute and we bring a unique perspective to the workplace," she adds. "That's why I support programs such as Transportation YOU, a mentoring program of the Women's Transportation Seminar that offers young girls an introduction to a wide variety of transportation careers."
To help more women make gains in the field of transportation, Ms. Johnson says, "I'm working with prime contractors and encouraging them to mentor small businesses. I'm also working with HNTB (a Kansas City-based architecture, civil engineering consulting and construction management firm) to provide Tolling 101 workshops for small businesses that will help them better compete for opportunities in the tolling industry.
"Additionally," she adds, "I've been working with the U.S. Department of Transportation to provide small businesses with access to capital. Lack of capital is one of the main reasons why small businesses struggle. I'm working to help alleviate this barrier."
Ms. Johnson was honored for her commitment to helping women make inroads in the transportation field as the recipient of the Conference of Minority Transportation Officials Celebrating Women Who Move the Nation Award. She was one of 14 women to receive the organization's highest award at a ceremony March 16 in Washington. "I was very excited and pleased to be recognized for something I'm extremely passionate about — mentoring women and minorities and helping small businesses," Ms. Johnson says.
This week's Personality, Grindly Johnson, is a mover and shaker:
Place of birth: Chesapeake.
Current home: Richmond.
Alma mater: Norfolk State University, bachelor's degree.
What this award means to me: It's always nice to be recognized and to receive an award. However, when it's for something I'm truly passionate about, it's even more special. It's a reminder that I need to keep doing what I'm doing.
Current status of women: We — women — are literally moving the nation.
Opportunities in the transportation field include: Accountants, engineers, scientists and specialists in civil rights, human resources, communications, public relations and procurement.


Why it is important to increase business and job opportunities for women in the transportation industry: Women have made tremendous strides in the transportation industry. We outnumber men in both college enrollment and college completion rates. Women also are more likely than men to continue their education after college. Fewer than 30 women are now serving as CEOs of Fortune 500 companies, or 5 percent. In 1995, there were none. Those statistics tell me there's still plenty of room for growth in female leadership.
The secretary of transportation is responsible for: Oversight of the following agencies that provide a wide array of products and services, including road construction and repairs, rest area maintenance, regulating sea ports, airports and railways and issuing license plates and driver's licenses:

• Department of Aviation