Personality: Gwendolyn D. Douglas
Spotlight on president of American Business Women's Association, Cavalier Chapter
3/10/2018, 7:43 a.m.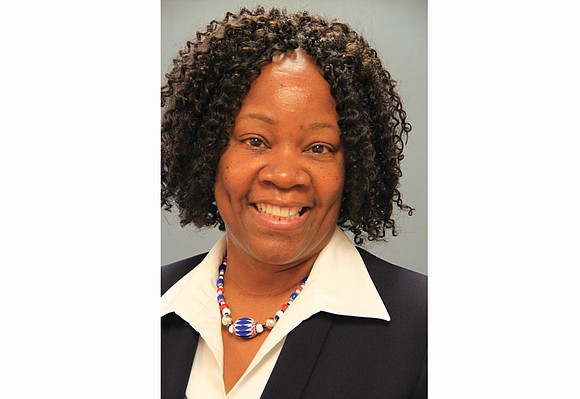 For the 10th year, the Cavalier Chapter of the American Business Women's Association is celebrating Women's History Month with Hattitude RVA — "Hats Off to Women" Awards Luncheon, a salute to the accomplishments of area women.
"Hattitude is about sung and unsung heroes," says Gwendolyn D. Douglas, chapter president. "The former are people that you see in the light very often and they are rewarded for their services very often. Those honors raise awareness of who they are.
"However, there are people who work in the community tirelessly in the background," she continues. "We need to value those people."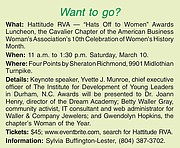 Two tireless workers in the community will be recognized at the Hattitude program slated for Saturday, March 10. They are Dr. Joann Henry, director of the Dream Academy, an education and career center that helps adults who never finished high school or earned a G.E.D. to get a high school diploma or certification for specific jobs, and Betty Waller Gray, a community activist who was one of the first African-American female computer analysts at DuPont and who now serves as an IT consultant and web administrator for Waller & Company Jewelers.
One of the highlights of the program is the array of fashionable hats people wear to the celebration. "The meaning of Hattitude is very simple," Ms. Douglas explains. "It is a combination of the attitude you have when you have on your hat and you're celebrating the history of women — what they have historically accomplished and what women are projected to do in the future. It depicts the radiance, courage and confidence that fills the room."
Under Ms. Douglas' leadership, the Cavalier Chapter is reaching out to younger women, including young business owners, those interested in starting a business and business students. This year, three Virginia Union University students, juniors and seniors who are the first in their families to attend college, are working with the chapter. The experience, which gives them the benefit of mentors, is designed to help them prepare for résumé writing, job interviews, working in a business environment and serving on a board.
"Many of these skills are not taught in school, and the students can't get those life and professional skills at home," Ms. Douglas says.
One of the students, Gerri Matthew, a VUU marketing major, will introduce the luncheon speaker, Yvette J. Munroe, chief executive officer of The Institute for Development of Young Leaders, a tuition-free public charter school in Durham, N.C.
Ms. Douglas, an executive assistant in the Richmond Commonwealth's Attorney's Office, became involved 20 years ago with the ABWA's Cavalier Chapter through a coworker who invited her to a meeting. The organization, she says, has helped her grow as a leader.
The knowledge and opportunities gained through the organization helps prepare chapter members to meet challenges in business, in negotiating and using their voice to shape change.
"Now, I can go to the Virginia General Assembly and know what is going on and where I can actually have an impact," Ms. Douglas says. "Getting what you want and how you get there is a process."