Personality: Arlette J. Teele
Spotlight on Queen of Purple Pumps Chapter of The Red Hat Society
4/16/2015, 9:36 a.m.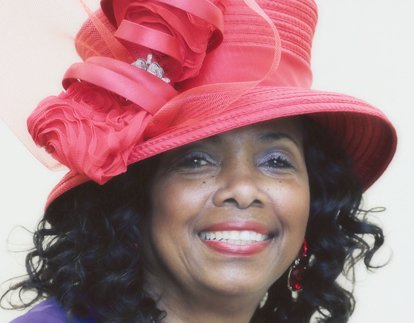 Arlette J. Teele founded the Purple Pumps Chapter of the Red Hat Society with the goal of bringing women in the Richmond area together "to greet middle age with verve, humor and élan."
At chapter gatherings, members are colorfully attired in red hats and wear purple shoes, whether they are cowgirl boots, purple heels or purple flip flops as the occasion dictates.
The only requirement for joining: To share the vision of a fun-filled life.
The chapter's nine active members are celebrating the Purple Pumps' 10th anniversary this year. So far, the group has marked its anniversary with a gala, the "Black and Bling Soiree," held March 28 at Club 533. It featured dining and dancing to the musical group "Bak N Da Day." The club was elaborately decorated with a queen's throne and a huge, lighted queen's crown.
Members wore black to the after-five themed banquet and wore black feather head pieces and lots of bling. They also received royal sashes with their royal names affixed and four men were inducted into the Royal Purple Pump Court for their support of the group.
The fun-loving group also hosts monthly tea parties and also dines at local restaurants, goes to movies and museums and attends plays, concerts and sporting events.
They begin each year worshipping in full regalia.
Chapter members are given a royal title and a shoe brand, such as Empress Stiletto, Queen Bandolino, Princess Prada or Queen Flip-Flop.
Founded by "Queen Mother" Sue Ellen Cooper of Fullerton, Ca., and five friends in April 1998, The Red Hat Society has spread the mirth to women across the globe, with more than 20,000 chapters in the United States and more than 30 countries abroad.
Members 50 and over wear red hats, while younger members wear pink and lavender hats.
Ms. Teele, a North Side resident and the Purple Pumps "Queen," says her chapter seeks to share the national organization's global vision of connecting women in their "pursuit of fun, friendship, fulfillment" and a "quest foremost for God-centered lives."
Here's a look at this week's Personality, Arlette Teele:
Occupation: Retired computer systems engineer for the Commonwealth of Virginia.
Date and place of birth: Sept. 17 in Richmond.
Alma maters with degrees: Armstrong High School, Class of 1965; Career Training Institute, 1970; Sperry Univac, 1977, systems administrator certificate; and Microsoft Corp., 1985, IT computer systems and networks engineer certificates.
Family: I have two sisters, a first cousin who is like a sister, one brother, two brothers-in-law, two nieces, four nephews, two great-nieces and one great-nephew, an aunt and uncle, a host of great-cousins and a devoted friend. Whew, that's a bunch and a new baby due this year!
Mission of Red Hat Society-Richmond, VA:The Red Hat Society is an international society made up of women of all ages. The society, originally designed as a way for women over 50 to escape the pressures and demands placed on their everyday lives, has matured, growing deeper than "fun and friendship" and includes women of all ages. The Red Hat Society has become a most unique international society as it is dedicated primarily to reshaping the way women approaching 50 and beyond are viewed in today's culture. The organization supports and encourages women to pursue fun, friendship, freedom, fitness and the fulfillment of lifelong dreams.