Commonwealth Links donate shoes to shelter at luncheon
12/10/2016, 8 a.m.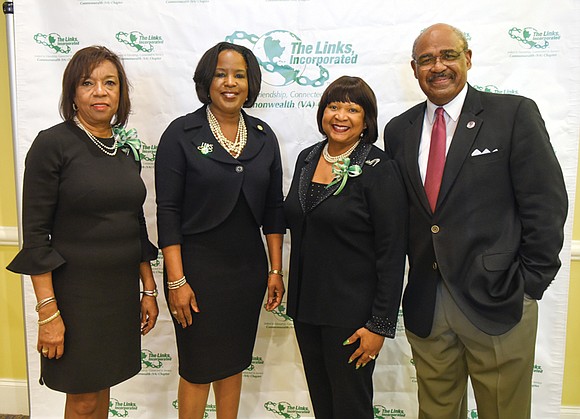 On a recent Saturday at a Downtown hotel, groups of women — some wearing snazzy hats and 5-inch heels — headed to a luncheon, all the while carrying another pair of shoes.
Why?
To donate more than 500 pairs of shoes to women living in homeless shelters across the Richmond region, to enjoy a delectable lunch, to be challenged by luncheon speaker Rosalyn Brock, chair of the national NAACP Board of Directors, and to hear inspiring remarks from recipients of community service awards.
The stylish women — members of the Commonwealth Chapter of The Links Inc. and their guests — were headed to The Links' 9th Biennial Green and White Luncheon on Nov. 19.
The theme: "Stepping Forward in Service: Women Helping Women."
Receiving checks in the amount of $10,000 each were Virginia Union University and the Black History Museum and Cultural Center of Virginia.
The "New Shoes for Back to School" ministry at Third Street Bethel A.M.E. Church in Jackson Ward was recognized. The program was initiated in 2007 when 727 new shoes were donated. The program has grown since then to include 25 churches and now is called the "Richmond Partnership of Churches' New Shoes for Back to School."
Since the start, about 82,000 pairs of shoes have been donated.
Hanover Safe Place, a part of the Greater Richmond shelter network for victims of domestic violence and sexual assault, also was honored. The organization was represented by Daveida Murphy-Hasan and Patty Hall.
The shoes brought to the luncheon by The Links members and their guests were given in honor of the shoe project for distribution at area shelters.
With the help of Link Beverly Davis of Davis Construction Co., a company truck transported the donated shoes to the shelter.