Big back-to-school shoe giveaway on Monday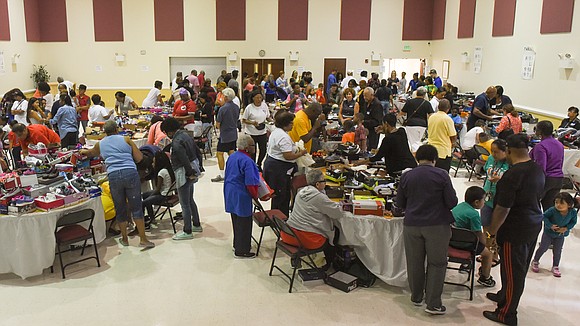 Many Richmond students will be well-heeled and ready with school supplies when classes start next week, thanks to donations by the community.
Students in kindergarten through high school can start school with a new pair of shoes from the 14th Annual Labor Day New Shoes for Back to School, a program started by a women's ministry at Third Street Bethel A.M.E. Church in Jackson Ward.
The church, located at 614 N. 3rd St., will be open from 8 a.m. to 2 p.m. on Labor Day, Monday, Sept. 2, for the first-come, first-served event.
Another free shoe donation program, The Launch Entertainment Back 2 School Sneaker Drive, collected 120 brand new pairs of sneakers at eight locations across the Richmond area.
Six city schools — Miles Jones, Oak Grove, Westover Hills, Blackwell, Bellevue and Swansboro elementary schools — will each receive 15 pairs of sneakers, distributed by Communities In Schools of Richmond.
CIS of Chesterfield will distribute the balance to three Chesterfield County schools.
The new sneakers were collected by businesses, residents and police and fire departments in Richmond, Henrico and Chesterfield.
Earlier this month, 14,000 backpacks filled with school supplies were donated to elementary schools and middle schools in Richmond. The Ultimate Backpack program was sponsored by the Virginia Commonwealth University Alumni Association in conjunction with CIS. More than 700 volunteers helped as backpacks were collected and stuffed on Aug. 14 at Hardywood Park Craft Brewery.
UPS also delivered free of charge 8,000 of the backpacks to elementary schools and 6,000 to middle schools in Richmond.
Timmy Nguyen, VCU's coordinator for the project, said the program focused on Richmond's Title I schools with a high concentration of students from low-income families. Each school will distribute the backpacks to students in need, he said.
The program has gone from 3,500 backpacks in its inaugural year in 2018 to 14,000 this year, he said. The involvement of so many volunteers and sponsors "demonstrated their desire for Richmond Public Schools students to succeed," Mr. Nguyen said.