'New Shoes For Back To School' reaches 15-year mark of providing for youngsters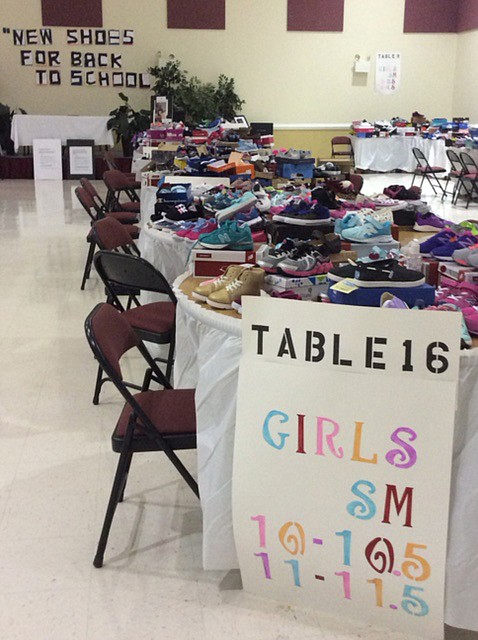 As students across the metro region prepare for in-person classes, they are looking to get new school clothes, especially rocking shoes and fine sneakers.
Rita Hayes Willis is continuing her efforts to make sure students have new shoes through the "New Shoes For Back To School" ministry she leads under a metro area partnership of churches.
The ministry was established 15 years ago through Third Street Bethel AME Church to provide shoes for students in kindergarten through 12th grade. Church members and others donate money to purchase shoes, while some stores donate stores or offer discounted prices.
Youngsters then select the new shoes they want during an event that was held for several years at the church and, later, at several sites before the COVID-19 pandemic.
More than 80,000 pairs of shoes have been distributed since the program began.
This year, nine churches have joined in the effort to provide shoes – from a kids' size 10 small and up—to Title I schools in Richmond, Henrico and Chesterfield from Sept. 1 to 17.
According to Ms. Willis, parents are encouraged to call their child's school to request shoes as soon as possible. In turn, the school principal will request shoes from the participating church in their area. Pick-up times will be arranged between the churches and the school principals.
"We are collecting shoes right now," Ms. Willis said. "Church families are also going out buying brand new shoes with donations dollars."
Participating churches include Broad Rock Baptist Church; Ebenezer Baptist Church; First Baptist Church, Midlothian; Lyndale Baptist Church; Sharon Baptist Church; Temple Beth-El; Temple of God Ministries; Third Street Bethel AME Church; and Trinity United Methodist Church.
Ms. Willis, who founded the program during her time as president of the Women's Missionary Society at Third Street Bethel AME Church, remembers how important it was to have brand new shoes on the first day of school.
"When I was going to school, it really wasn't about our outfits," she said. "It was about our shoes. You had to have a brand new pair of shoes to go to school."
She said there is something about having a new pair of shoes and that is where the name of the ministry came from.
Ms. Willis said any shoes not given away at the beginning of the school year are saved in Richmond Public Schools' warehouses and are available for students who need them throughout the year.
Details: See the "New Shoes For Back To School Ministry" Facebook page at www.facebook.com/newshoeministry/ or call (804) 221-7394.