Two back-to-school shoe giveaways scheduled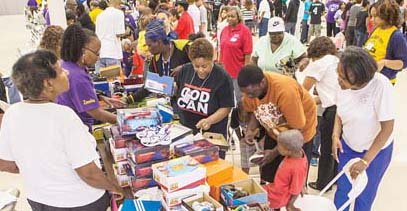 Need back-to-school shoes?
There will be two options for families who cannot afford new shoes for their students, thanks to area churches.
First, Second Baptist Church on South Side once again will host a multichurch shoe giveaway on Labor Day at its sanctuary at 3300 Broad Rock Road.
This event will take place from 8 a.m. to 4 p.m. Monday, Sept. 1. Further details: (804) 221-7394 or rita.willis@vahcc.com.
Separately, two East End churches, Cedar Street Baptist and Fourth Baptist, will conduct their second annual back-to-school shoe giveaway 9 a.m. Saturday, Aug. 30. Location: 23rd and Cedar streets. Details: (804) 648-8919 or (804) 644-1013.
Students must be accompanied by a parent or guardian at both events.
The big event will be at Second Baptist.
At least 4,200 pairs of shoes will be available this year, said Rita H. Willis, creator of this shoe giveaway and chairperson of the "Richmond Partnership of Churches."

That's six times the 700 pairs that were offered in 2005 when Ms. Willis led members of Third Street Bethel AME Church in Jackson Ward in starting the project.
The program attracted so many people in succeeding years that Third Street Bethel needed a new space, she said, which is why Second Baptist now serves as host.
This year, 12 other churches are teaming with Third Street Bethel and Second Baptist to make this ninth effort the biggest ever, she said.
Since the program's inception, more than 20,000 pairs of shoes have been distributed, she said.