Area back-to-school giveaways scheduled
8/23/2018, 6 a.m.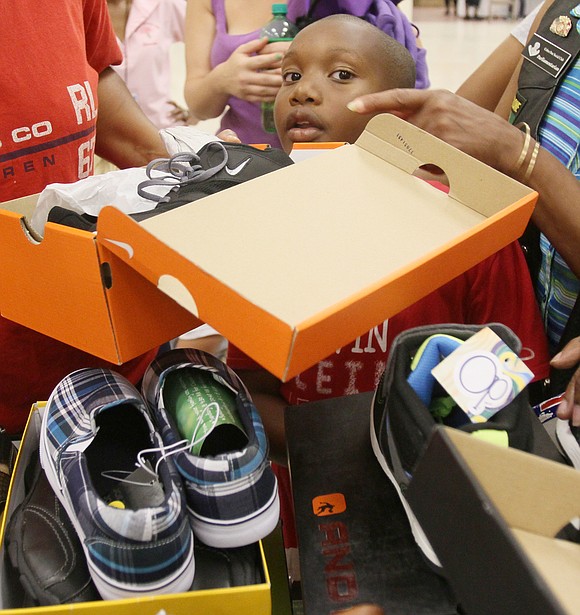 With the new school year less than two weeks away, several free events are scheduled to provide shoes and school supplies to Richmond area students.
Henrico resident Marsha Witherspoon is hosting her 4th Annual Labor Day Back to School Bash at 3 p.m. Saturday, Sept. 1, at 4501 McGill St. in the East End.
Parents can come with their children and their school supply list and pick out a backpack and supplies, Ms. Witherspoon said.
There is no residency or age requirement.
"It's for whoever is in need," Ms. Witherspoon said. "It's a time for kids to have fun before school starts."
The event also will feature music, games, a bounce house, face painting, characters and food.
The rain date is Sunday, Sept. 2.
Details: Ms. Witherspoon, (804) 615-2306 or marshawitherspoon@yahoo.com.
Students from kindergarten through 12th grade can start school with a new pair of shoes from the 13th Annual Labor Day New Shoes for Back to School, a program started by a women's ministry at Third Street Bethel A.M.E. Church in Jackson Ward.
Two distribution sites will be open from 8 a.m. to 2 p.m. on Labor Day, Monday, Sept. 3, for the first-come, first-served event — Third Street Bethel A.M.E. Church at 614 N. 3rd St. and George Wythe High School's gymnasium, 4314 Crutchfield St. in South Side.
"The ministry has become an unofficial part of school opening," said project founder Rita Willis. "Each year since 2006, more than 4,000 pairs of shoes have been available" for students.
The shoe giveaway is a partnership that has grown to include 16 churches and a synagogue.
A parent or guardian must accompany youngsters.
Details: www.thirdstreetbethel.org/new-events
First Baptist Church of South Richmond will hold Super Saturday, a family festival that will include backpack and school supplies giveaways, 2 p.m. Saturday, Sept. 8, at its North Chesterfield campus, 6201 Ironbridge Road.
Backpacks will be distributed beginning at 5 p.m.
The event will include music, face painting, a Zumba class, flag football games, 3-on-3 basketball, voter registration, health vendors and food, followed by movie night.
Families are encouraged to bring lawn chairs.
Details: First Baptist Church of South Richmond, (804) 233-7679.