3 of 9 quarterbacks chosen in NFL draft are black
Fred Jeter | 5/20/2016, 1:46 p.m.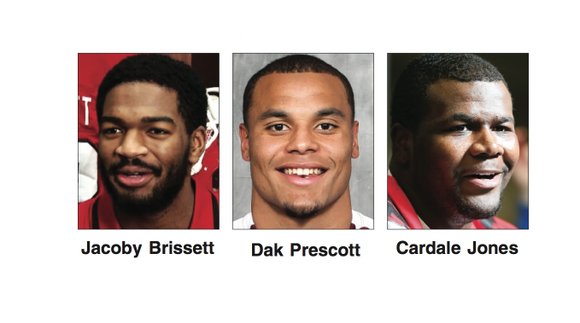 A wave of talented African-American quarterbacks has emerged as NFL headliners in recent years.
But what are the prospects for the next wave?
Does football's Class of 2016 have much chance of joining the likes of Cam Newton (entered league in 2011) Russell Wilson (2012), Robert Griffin (2012), Teddy Bridgewater (2014) and Jameis Winston (2015) as Sunday heroes?
All of these quarterbacks made All-Pro in either their first or second year. It also doesn't count Colin Kaepernick (2011 entry), who spurred the San Francisco 49ers to the Super Bowl during his second season.
The next group of spiral throwers will be hard pressed to attain those credentials. There is no superstar, or even likely starter, on the near horizon. 
Nine quarterbacks were selected in the recent NFL draft, three of whom are African-American — Jacoby Brissett, Dak Prescott and Cardale Jones.
Here's a peek at the upcoming rookies:
Brissett (North Carolina State University): Selected in the third round, 91st overall pick, by the New England Patriots; 6-foot-4, 231 pounds; 4.84 seconds for the 40-yard dash at the NFL Combine; from West Palm Beach, Fla.
Eventually, someone must replace 38-year-old Tom Brady and Brissett hopes to be the man. Currently, he is No. 3 on the depth chart behind Brady and Jim Garoppolo.
With Brady facing a possible four-game suspension, Brissett could start the season as a top reserve.
As a Wolfpack senior, Brissett passed for 2,662 yards, rushed for 370 yards and accounted for 26 total touchdowns.
Brissett played two seasons at N.C. State after transferring from Florida.
Prescott (Mississippi State University): Chosen during the fourth round, 135th overall, by the Dallas Cowboys; 6-foot-2, 226 pounds; Combine 40-yard dash time was 4.79; from Sulphur, La.
The possible successor to injury-plagued Tony Romo, 36, passed for 3,793 yards and 29 touchdowns as a senior at MSU, setting 38 school records.
Prescott, the Senior Bowl Most Valuable Player, is the first quarterback drafted by the Cowboys since Steve McGee in 2009.
There is an opening to quickly become No. 2. None of the Cowboys' back-ups from last year distinguished themselves.
Jones (Ohio State University): Selected in the fourth round, 139th overall, by the Buffalo Bills; 6-foot-5, 253 pounds; Combine 40-year time, 4.81 seconds; from Glenville, Ohio.
Nicknamed "12 Gauge" because of his powerful throwing arm, he led the Buckeyes to the National Championship as a late-season fill-in 2014, with the team beating Oregon in title game; started last season as the Buckeyes' starter, but eventually lost position to J.T. Barrett, who remains at Ohio State.
In Buffalo, Jones becomes part of what may be an historic depth chart with three African-American quarterbacks. The clear No. 1 quarterback is Tyrod Taylor out of Virginia Tech, with E.J. Manuel, formerly of Florida State, No. 2 for now.
New chapter for RG3: After wearing out his welcome in Washington, Griffin, the 2011 Rookie of the Year, eyes a rousing comeback in Cleveland, where he will play for Hue Jackson, the Brown's first-year African-American coach.  
Griffin was the No. 2 overall pick in 2011, after winning the Heisman Trophy at Baylor University.
Reports of his demise may be over-rated. In nine games in 2014, he completed an impressive 69 percent of his passes before being benched, for good, in favor of Kirk Cousins.
After sitting out the 2015 season, Griffin signed a two-year, $15 million pact with the Cleveland Browns in March.
Failure and Cleveland football have become synonymous. If Griffin is to start, as expected, he will be Browns' 25th starting quarterback since 1999. The northeastern Ohio city has enjoyed just one playoff season during that painful dry spell.