All eyes will be on Dwayne Haskins as Washington's training camp opens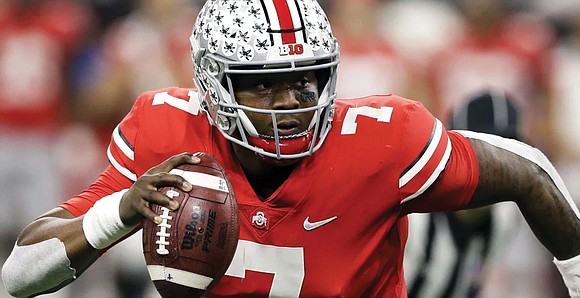 Doug Williams was the first African-American quarterback to make an impression with the NFL's Washington franchise.
Dwayne Haskins figures to be the most current.
Haskins is Washington's first round draft pick — and the 15th pick overall. He will be a focal point of the team's upcoming workouts at the Bon Secours Training Center in Richmond.
Practice sessions begin Thursday, July 25.
The newcomer from Ohio State University will challenge veteran quarterbacks Case Keenum and Colt McCoy for the right to succeed Alex Smith as Washington's No. 1 signal caller.
Keenum, obtained in an offseason trade, and McCoy, a Washington reserve since 2014, are both journeymen backup quarterbacks.
The vacancy at football's most vital position occurred last November when Smith suffered a compound fracture of his right leg in a game against the Houston Texans.
Smith, 35, remains under contract but faces a cloudy future.
Haskins' résumé is brilliant albeit brief. In his lone season as Ohio State's regular quarterback, he set Buckeyes and Big 10 passing records with 4,831 yards and 50 touchdowns.
He was third in Heisman voting behind two other quarterbacks, Kyler Murray of the University of Oklahoma and the University of Alabama's Tua Tagovailoa.
Haskins left OSU with two years of eligibility remaining. The 22-year-old native of Highland Park, N.J., was redshirted as an OSU freshman and backed up J.T. Barrett, who is now with the New Orleans Saints, in 2017.
Haskins is built more like a linebacker. At the NFL Combine, he measured 6-foot-3⅜, weighed 231 pounds and raced 40 yards in 5.04 seconds.
The rookie will be wearing a familiar number for Washington — No. 7. That is the same number worn, and later retired, by franchise icon Joe Theismann.
Haskins requested Theismann's permission, which was granted, to wear No. 7, the same number Haskins wore at OSU.
Any African-American quarterback in Washington will live under the lengthy shadow of Williams, now the team's senior vice president for player personnel.
On Jan. 31, 1988, Williams passed for 340 yards and four touchdowns against the Denver Broncos, becoming the first black NFL quarterback to win the Super Bowl MVP.
While Haskins works to make a rookie impression, here's a look at Washington's past African-American quarterbacks.
Doug Williams: Signed by Washington after a stint in the USFL; played in D.C. 1986 to 1989.
Tony Banks: A journeyman who was released by Washington after playing only the 2001 season.
Jason Campbell: First round draft choice out of Auburn University; was Washington quarterback 2007 to 2009.
Donavan McNabb: Played the 2010 season in D.C. after an All-Pro career in Philadelphia.
Robert Griffin III: First round draft choice out of Baylor University; derailed by injury following a standout rookie campaign in 2012.
Josh Johnson: Released after playing the last four games with Washington a year ago.