NFL draft may hold some surprises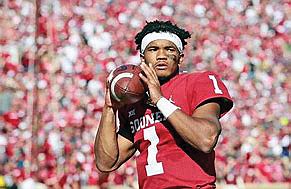 2019 NFL Draft 
What: NFL's 84th Incoming Player Draft.
When: Thursday, April 25, through Saturday, April 27. The first round is on April 25, rounds two and three on April 26 and rounds four through seven on April 27.
Where: Nashville, Tenn.
Time: 8 p.m.
Televised: ABC, ESPN, ESPN2 and the NFL Network.
First pick: Arizona Cardinals; the Washington NFL team picks 15th.
Kyler Murray was barely a blip on the draft radar starting the 2018 season. Now he's a favorite to be picked No. 1 overall by the Arizona Cardinals.
Few athletes have shifted gears so dramatically as the multitalented Oklahoma Sooners quarterback.
It appeared Murray was headed to a pro baseball career until this past season. He was drafted by the Oakland A's as the eighth overall pick in 2018 as an outfielder.
His thinking — and the thinking of NFL scouts — changed quickly this past fall when Murray led the University of Oklahoma to the Big 12 title and a berth in the College Football Playoff.
As a junior, he tossed for 4,361 yards and 42 touchdowns this past season and, out of nowhere, won the Heisman Trophy. He further impressed the scouts by passing for 308 yards in Oklahoma's loss to the University of Alabama in the Orange Bowl. 
A threat running or throwing, Murray rushed for 1,001 yards and another 12 touchdowns in 2018.
In 2017, he backed up Baker Mayfield at quarterback for the Sooners. Mayfield also won the Heisman Trophy and was the No. 1 overall pick in the NFL draft by the Cleveland Browns.
Murray is short in height — 5-foot-10 — and experience with only one year as a college starter. But he obviously has what NFL teams are looking for. His stock didn't fall even after declining to participate in individual drills at the Scouting Combine in March. 
A native Texan, Murray hails from an athletic family. His father, Kevin Murray, was quarterback at Texas A&M University from 1983 to 1986. An uncle, Calvin Murray, played Major League Baseball with San Francisco, Texas and the Chicago Cubs.
Murray is a second-generation Korean-American. His maternal grandmother is from South Korea.
The decision to switch from baseball to football comes at a short-term cost. Murray signed with the Oakland Athletics for $4.66 million, a tidy sum he won't be able to cash. 
The money would have been his if he'd gone ahead and joined the A's farm system this spring as initially planned. Oakland retains rights to Murray should he return to the baseball diamond.
There's plenty of money in the NFL, too. Mayfield's rookie contract with Cleveland last year was good for $32.9 million, including a $22.1 million signing bonus. 
Murray didn't submit his name for the NFL draft until January, and didn't announce he was focusing on the NFL until Feb. 11. While many "experts" believe he will be the first person chosen during the NFL draft that starts Thursday, April 25, there are always surprises. 
Cream of the crop: Others expected to be among the first picks are defensive end Nick Bosa from Ohio State University, defensive tackle Quinnen Williams from the University of Alabama, linebacker Josh Allen from the University of Kentucky, defensive tackle Ed Oliver from the University of Houston and defensive end Rahan Gary from the University of Michigan.