African-American quarterbacks making an impact in NFL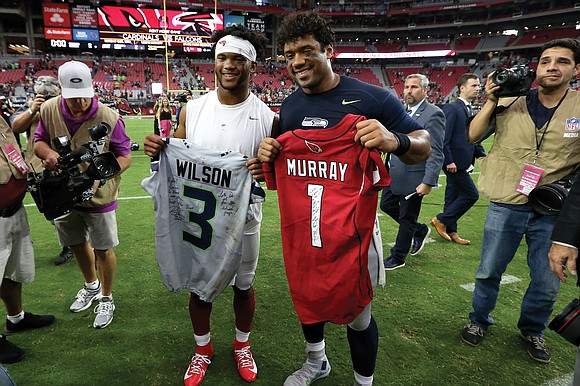 Rookie quarterback Kyler Murray signed a lucrative four- year contract with the NFL Arizona Cardinals worth more than $35 million.
Early indicators suggest he may be worth every penny.
An overnight success, Murray became only the second quarterback in NFL history — joining Cam Newton of the Carolina Panthers — to pass for more than 300 yards in each of the first two games. Murray passed for 349 yards against the Baltimore Ravens and 308 yards against the Detroit Lions.
Through four games, Murray has completed 61.3 percent of his passes for 830 yards and four touchdowns.
He also looms as among the league's top dual-threat (run-pass) quarterbacks once the Cardinals unleash his considerable running skills. He raced for 1,001 yards and 12 touchdowns last season at the University of Oklahoma while passing for 4,361 yards and 42 touchdowns.
The Arizona brain trust, with first-year Coach Kliff Kingsbury, were sold on Murray despite some glaring red flags.
Murray was only a one-year starter at Oklahoma, waiting behind Baker Mayfield. He became the first quarterback shorter than 6 feet — he's 5 feet, 101⁄8 inches — to be selected first overall in the NFL draft.
Until this past year, baseball — not football — appeared to be his athletic meal ticket. He previously signed as an outfielder with the Oakland Athletics.
At the NFL Scouting Combine, Murray declined to sprint for time and scored a disappointing 20 on the Wonderlic Cognitive Ability Test.
For quarterbacks, 24 is average on the test. By comparison, Seattle quarterback Russell Wilson scored 28 and Tampa Bay quarterback Jameis Winston, 27.
The all-time high is a 48 in 2005 scored by Ryan Fitzpatrick, a quarterback out of Harvard University who is now with the Miami Dolphins.
So much for the Wonderlic.
In assessing Murray,Arizona chose its own eyeball test over NFL standardized guides. It goes to show that in making critical decisions, go with your gut.
Arizona never flinched, signing Murray for a base salary of $23 million-plus, with a signing bonus of $12 million.
Coming off a dreary 3-13 season, the Cardinals have chosen Murray to steer the franchise back on course.
Alphabetically, here are the NFL's other African-American starting quarterbacks with background information:
• Teddy Bridgewater of the New Orleans Saints: Age 26; Min- nesota's first round draft choice (32nd overall) out of University of Louisville in 2014; became the Saints quarterback following a thumb injury to Drew Brees.
• Jacoby Brissett of the Indianapolis Colts: Age 26; New England's third round pick (91st overall) out of North Carolina State University in 2016; became the Colts quarterback following the retirement of Andrew Luck.
• Lamar Jackson of the Baltimore Ravens: Age 22; Ravens' first round pick (32nd overall) out of the University of Louisville in 2018; became the starter during his rookie season following an injury to Joe Flacco.
• Pat Mahomes of the Kansas City Chiefs: Age 24; Chiefs' first round choice (10th overall) out of Texas Tech in 2017; became starter in second season when Alex Smith was traded.