Ravens' Lamar Jackson defies Heisman history, breaks record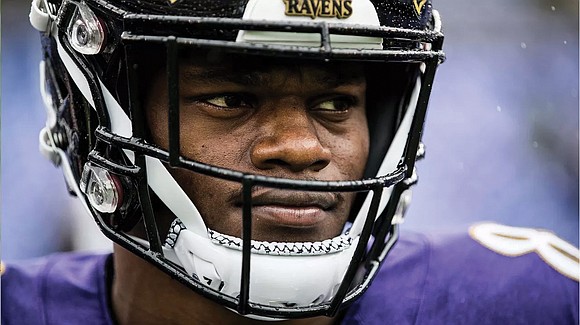 If there is such a thing as a Heisman Trophy jinx, Lamar Jackson seems immune to it — so far.
At least among African-American quarterbacks, the Heisman — college football's ultimate individual award — hasn't exactly spelled a yellow brick road to NFL stardom.
So far, Jackson, who was the 2016 Heisman Trophy winner as a sophomore at the University of Louisville, has dodged any pitfalls that have plagued his similarly awarded predecessors.
Since emerging as a starter on Nov. 18 for the NFL's Baltimore Ravens in their game against the Cincinnati Bengals, Jackson has helped Baltimore win six of its last seven games, most notably a 26-24 win over the Cleveland Browns last Sunday that clinched the AFC title.
Baltimore will play host to the Los Angeles Chargers at 1:05 p.m. Sunday, Jan. 6, in the first round of the playoffs.
The 6-foot-3, 212-pound Florida native has sparkled with his powerful throwing arm and uncanny ability to scramble for rushing yards.
The congenial Jackson, nicknamed "Smiley Face," says all the right things, too. As the replacement for 11th-season starter Joe Flacco, who was suffering from a sore hip, Jackson said this to Press Box Online Baltimore:
"It's our team, all of us together. I don't go out there and block. I don't go out there and catch the ball. I don't make tackles. I just do my part."
The Ravens' changing of the guard to Jackson has resulted in a dramatic shift in Coach John Harbaugh's offensive strategy.
Flacco is a classic drop-back pocket passer, while Jackson is the epitome of a run-pass, dual-threat.
Before losing his position to rookie Jackson, Flacco passed for 2,465 yards and ran for just 45 yards on 19 carries. Baltimore had lost three straight games when Coach Harbaugh made the much-scrutinized switch.
"Every decision is based on what can make us the stronger team we can be, whether that's quarterback or defensive line or whatever," Coach Harbaugh told Press Box. "That's the bottom line. That's what it boils down to."
In sharp contrast to Flacco's more traditional style, the much faster and elusive Jackson ran 26 times for 119 yards — the most ever by a Ravens quarterback — in his first start.
Starting the playoffs, Jackson has passed for 1,201 yards and six touchdowns and run for 695 yards and five touchdowns, averaging nearly 5 yards per carry.
 Coincidentally, the third quarterback on the Ravens roster is none other than Robert Griffin III, the 2011 Heisman Trophy winner whose career has been sabotaged by injuries.
Jackson seems to be in the right place. Baltimore fans will forever have a warm spot in their hearts for quarterbacks from Louisville.
Perhaps the most beloved athlete in any sport representing Baltimore was the late John Unitas, who, like Jackson, was from the University of Louisville. Hall of Famer "Johnny U' sparked the Baltimore Colts to three NFL titles, in 1958, 1959 and 1968.
Meanwhile "Smiley Face" is aiming for his first.
No sure thing
Here's list of African-American quarterbacks who've won the coveted Heisman Trophy. Their pro careers haven't always gone well.
2018 — Kyler Murray, University of Oklahoma: With no NFL career in the plans, he will pursue pro baseball. He was drafted during the spring in the eighth round by the Oakland Athletics.
2016 — Lamar Jackson, University of Louisville: Drafted 30th overall in 2018 by the Baltimore Ravens. He has led the Ravens to five wins in his first six starts while setting the franchise quarterback rushing record.
2013 — Jameis Winston, Florida State University: Drafted first overall by Tampa Bay Buccaneers. Despite Winston's individual success, the Bucs are 25-38 since his arrival; no playoffs.
2011 — Robert Griffin III, Baylor University: Drafted second overall by the Washington NFL team, he enjoyed a brilliant rookie season before injuries derailed his career.
2010 — Cam Newton, Auburn University: Drafted first overall by the Carolina Panthers, he earned the 2015 MVP title, leading the Panthers to Super Bowl LV. The team has missed the playoffs in two of the last three seasons.
2006 — Troy Smith, Ohio State University: Drafted in the fifth round by the Baltimore Ravens, he was never an NFL starter. He passed for just eight touchdowns in parts of five seasons.
1993 — Charlie Ward, Florida State University: Undrafted by the NFL, he passed on football for a career in the NBA from 1994 to 2002.
1989 — Andre Ware, University of Houston: Drafted third overall by the Detroit Lions, he had the most success in the Canadian Football League.