They're calling, making plays in the NFL
9/11/2015, 1:14 a.m.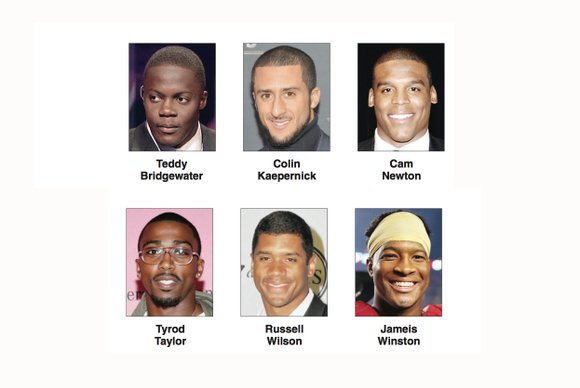 Robert Griffin III's ongoing health struggles in Washington leaves the NFL with six African-American starting quarterbacks to kick off the season.
Griffin, the former Heisman Trophy winner and first-round draftee out of Baylor University, has been replaced by Kirk Cousins.
Cousins, a former fourth-round draft choice from Michigan State, will be taking snaps from center Sunday, Sept. 13, when the Washington team opens 1 p.m. at FedEx Field against the Miami Dolphins.
Because of injuries, Griffin's future in Washington remains cloudy. He was not cleared to play in the team's third exhibition game because of lingering effects from a concussion.
Soon after, D.C. coach Jay Gruden promoted Cousins to starter and announced he would continue in that capacity for the foreseeable future.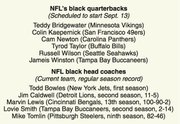 Quarterback is just one of six NFL positions in which more white players are starters than African-American players. Other majority-white positions are center, long snapper, punter, place kicker and tight end.
Overall, the demographic makeup of NFL players is about 68 percent black, 27 percent white and 5 percent Pacific Islander, mainly from American Samoa and Tonga.
Heading the list of black quarterback starters is Richmond's Russell Wilson, a Collegiate School graduate, who begins his fourth season in Seattle. The Seahawks open Sept. 13 in St. Louis.
With Wilson at the helm, Seattle won the 2013 Super Bowl and lost to New England in last year's climactic championship.
There are two new black starting signal callers this season, Tyrod Taylor in Buffalo and Jameis Winston in Tampa Bay.
From Hampton High School and Virginia Tech, Taylor replaces another black quarterback, E.J. Manuel, in Buffalo under new Coach Rex Ryan. Taylor, who signed with the Bills in March, was previously Joe Flacco's backup in Baltimore.
Winston won the 2013 Heisman Trophy at Florida State University and was the NFL's overall No. 1 draft pick in 2014.
He has been slowed by a sprained ankle but is expected to start during the home opener against Tennessee for Coach Lovie Smith.
Colin Kaepernick in San Francisco, Cam Newton in Carolina and Minnesota's Teddy Bridgewater are returning starters at the league's most important position.
Michael Vick, a former starter in Atlanta and Philadelphia, is now Ben Roethlisberger's backup in Pittsburgh.
Former University of Virginia and Winston-Salem State University quarterback Phillip Sims is in position to make the Arizona Cardinals' roster as a backup.
Tarvaris Jackson from Alabama State University is backing up Wilson in Seattle. Josh Freeman, a former starter in Tampa Bay, and Thad Lewis look to be reserve quarterbacks in Miami and Cleveland, respectively. 
Aside from special team performers, quarterback is the position least represented by African-Americans in the Pro Football Hall of Fame.
Warren Moon remains the only African-American quarterback out of 23 total in the Hall of Fame. Moon passed for 49,325 yards and 291 touchdowns between 1984 and 2000. Moon is now a radio/TV color commentator for the Seahawks.
There are two black Pro Football Hall of Fame centers, Dermontti Dawson and Dwight Stephenson.
There are no black coaches in Canton, although Art Shell was enshrined as a player. Shell became the first black head coach in the modern era when he was named coach of the Los Angeles Raiders in 1989.