Jalen Hurts in the running for Heisman Trophy
Fred Jeter | 10/25/2019, 6 a.m.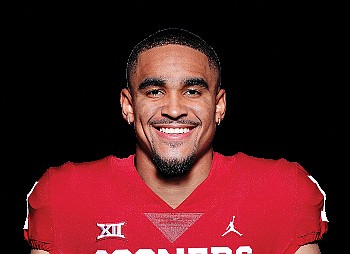 Jalen Hurts could have sulked, lost spirit and faded away as a college football quarterback.
Instead, he has emerged — almost out of thin air — as a Heisman Trophy front-runner.
After losing his starting position at the University Alabama, Hurts has regained the spotlight — and the mojo — after trans- ferring to the University of Oklahoma as a graduate senior.
If the Heisman voting were conducted now, it would be hard going against the 22-year-old Hurts, a 6-foot-2, 219-pound Houston native.
In spurring Coach Lincoln Riley's Sooners to a 7-0 record, Hurts has dazzled with his arm, legs and ability to quickly master the Oklahoma offensive scheme.
His game totals:
Passing: 114 completions in 154 attempts (74 percent) for 2,074 yards and 20 touchdowns.
Running: 705 yards, 8.2 yards per carry average, 10 touch- downs.
Hurts didn't melt in front of the national TV cameras on Oct. 12 against the University of Texas in the Red River Showdown at the Cotton Bowl in Dallas. He passed for 235 yards and three touchdowns and ran for 131 yards and another touchdown as Oklahoma won 34-27. The 131 yards is the most ever rushing by a Sooners quarterback.
Afterward, Hurts said all the right things in a Fox postgame interview.
"I think it's a testament to my teammates," Hurts said of the victory. "I can't think of a better group of guys to win with. All the emotional ties are there ... OU DNA is now in me."
Some background:
Hurts quarterbacked the University of Alabama to a 27-2
record in 2016 and 2017 but was benched at the end of 2017 in favor of Hawaiian Tua Tagovailoa.
He did not publicly complain about the demotion. Instead, he remained the consummate team player in 2018, backing up Tagovailoa and filling in when asked.
That said, he wasn't going to finish his eligibility on anyone's bench.
As a graduate student, he was immediately eligible this season in Norman, Okla. He made a smooth transition to the University of Oklahoma with his exceptional blend of running, passing and decision-making skills. He has even been made a team captain.
There are two visibly noticeable differences between Hurts of Alabama and Hurts the Sooner.
While in Tuscaloosa, Ala., he wore his hair in long braids that flowed from under his helmet. Now his hair is close cut.
Wearing Alabama's colors, he played in the No. 2 jersey. Now, he sports the No. 1 jersey in Oklahoma's crimson and cream.
Incredibly, he could become Oklahoma's third straight Heisman winner at the same position. Quarterback Baker Mayfield won the coveted award in 2017, followed by quarterback Kyler Murray last year.
Also, both Mayfield and Murray went on to become overall first picks in the NFL draft — Mayfield with the Cleveland Browns and Murray with the Arizona Cardinals.
Other Heisman candidates are three quarterbacks — Sam Ehlinger of the University of Texas, Joe Burrow of Louisiana State University and Alabama's Tagovailoa, the man who put Hurts on the bench in Tuscaloosa — and University of Wisconsin running back Jonathan Taylor.
Hurts isn't looking to copy Mayfield or Murray, but just be himself.
"I hear Baker-Baker, Kyler-Kyler," he told Fox. "I'm just me."
Several universities have had back-to-back Heisman Trophy winners
1936/1937: Yale University end Larry Kelley won in 1936; Yale halfback Clint Frank won in 1937.
1945/1946: Army fullback Doc Blanchard won in 1945; Army halfback Glenn Davis won in 1946.
2004/2005: University of Southern California quarterback Matt Lenhart won in 2004; USC's Reggie Bush won in 2005. Bush later forfeited the Heisman Trophy because of off-field allegations.
2017/2018: University of Oklahoma quarterback Baker Mayfield won in 2017; Oklahoma quarterback Kyler Murray won in 2018.