'Scary Terry' McLaurin putting the fright into Washington's opponents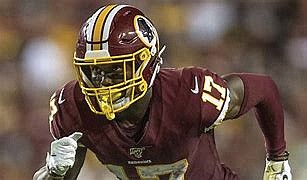 Surprise. Surprise. The Washington Football Team, despite a 2-5 record, is seriously in contention for the NFC East title and the NFL playoffs.
Just as surprising, perhaps, is that Terry McLaurin, a rela- tive unknown, has emerged as arguably the squad's marquee offensive performer.
Selected in the third round of the 2019 draft — and 76th overall — out of Ohio State University, McLaurin was only the 12th wide receiver taken. If that hurt his feelings, it didn't hamper his performance.
The 6-foot, 210-pound Indianapolis native made the NFL's All-Rookie team in 2019 with 58 receptions for 919 yards (15.8 yards per catch) and seven touchdowns.
Combining 4.35-second speed for the 40-yard dash, crisp routes and sure hands, the rookie haunted defensive backs so much that he earned the nickname "Scary Terry."
It was just a start. So far, there have been no second season jitters.
Already this season as he has faced defenses more focused on containing him, McLaurin has 43 catches for 577 yards and two touchdowns in Washington's 2-5 start that features divisional wins over the Philadelphia Eagles and the Dallas Cowboys.
McLaurin is a runner as well as a receiver. Of his 577 receiving yards, 278 have fallen into the "YAC" column, or Yards After Catch.
That productivity has been despite working with three different quarterbacks, a new head coach and a new offensive coordinator so far.
It's easy to see how McLaurin puts fright into defenders. He had 10 catches for 118 yards in Washington's loss to the Baltimore Ravens and seven more catches for 90 yards in Washington's Oct. 25 win over Dallas. The Washington team had a bye this past weekend.
"Now we're right in the thick of it," McLaurin told Washingtonfootball.com after the Dallas win. "Everything we want is right in front of us."
McLaurin, who wears jersey No. 17 in burgundy and gold, plans to add to those totals Sunday, Nov. 8, when Washington hosts the New York Giants at FedEx Field.
"It's been a treat getting to know him," Washington Coach Ron Rivera told the Associated Press earlier this season about McLaurin. "He had a solid year last year as a rookie, as a third round pick. Now he's a guy on the verge of stardom — he really is."
McLaurin was behind two first rounders in the 2019 draft — No. 15 overall, Dwayne Haskins, a quarterback from Ohio State, and Montez Sweat, No. 26 overall, out of Mississippi State University. Haskins had been McLaurin's quarterback at Ohio State.
For his D.C. battery mates, McLaurin worked first with quarterback Case Keenum last year before Haskins took over the final seven games.
Haskins opened this season as the starting quarterback, but struggled and was replaced by Kyle Allen. Also quarterback Alex Smith, returning from a two-year injury, played briefly in a game when Allen was injured. Haskins, for now, is on the back burner.
Whoever is tossing the spirals, they seem to wind up in McLaurin's sticky gloves.
Now about that nickname: McLaurin is the first to say it is not original, that "Scary Terry" is the tag of NBA standout Terry Rozier, who got his nickname from wearing a protective face mask.
McLaurin says his tags in high school and college included "T-Mac," "Mac Made," "Mac Mania" and even "TD Terry." He caught 11 touchdowns as a college senior.
But for now, at least, "Scary Terry" will suffice.
He offers this: "A nickname isn't going to mean anything if I don't keep making plays."
As gifted as Washington's unexpected star is, the biggest surprise would be if he doesn't keep on making the plays.