Rookie Antonio Gibson becomes Washington team hero on Thanksgiving
12/3/2020, 6 p.m.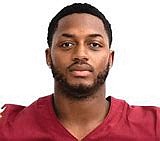 Antonio Gibson has become a new hero in Washington and a villain in Dallas.
In what became his national television coming out party, the Washington Football Team's rookie stung the Dallas Cowboys two ways on Thanksgiving Day.
Statistically, Gibson beat Dallas with his speed and elusiveness, rushing for 115 yards and three touchdowns in a 41-16 rout.
More bothersome, perhaps, if you're a Cowboys fan, Gibson punctuated his second touchdown, a 23-yard dash, with a look-at-me hand gesture.
Approaching the goal line, "Gibby" turned to wave "goodbye" to trailing Cowboys defender Donovan Wilson.
Some might say that was adding a little too much cranberry sauce to the turkey, but it drew rave reviews from the Washington nation.
Washington (4-7) is in a four-way battle for first in the wobbly NFC East with the New York Giants (4-7), the Philadelphia Eagles (3-7-1) and the Cowboys (3-8).
"Our record isn't that good and we're not in the best division, but we're still in it," Gibson told the media later.
"This gives us hope. If we can make the playoffs, why not?"
Gibson, a third round draft pick out of the University of Memphis, is a top-of-the-list reason why the burgundy and gold remains in the playoff race.
"There's still room for growth, but Gibby has so much potential, so much ability," Washington Coach Ron Rivera said in his postgame media conference.
Through 11 outings, Gibson has rushed for 645 yards (4.6 yards per tote) and 11 touchdowns. His 11 six-pointers is third in the NFL behind the Minnesota Vikings' Dalvin Cook, who has 13, and Derrick Henry of the Tennessee Titans, with 12.
Gibson, who was primarily a wide receiver for Memphis, is also a favorite receiving weapon for Washington quarterback Alex Smith. Thus far, he has 32 receptions for 233 yards.
Coach Rivera is confident Gibson will play the same role in D.C. that Christian McCaffrey did for him previously while coaching the Carolina Panthers.
McCaffrey, All-Pro in 2019, has developed into one of the NFL's most feared offensive forces as a run-catch dual threat.
The Thanksgiving Day game was the first national TV exposure for Washington this season.
In signaling "so long" to the struggling Cowboys, the Washington rookie was saying, "Hi, I'm Gibby" to the rest of America.