Washington rookie proves to be preseason surprise
Surprise! Surprise! Jaret Patterson is that shiny package you never expected.
Undrafted and at first lost on the depth chart, the 5-foot-8 running back from the Univer- sity of Buffalo has become the buzz of the Washington Football Team's preseason.
If an MVP were to be picked after two exhibition games, the 21-year-old rookie who wears jersey No. 35 would be a top contender.
Dipping and darting through and around tacklers, flashing speed and power and soft hands, the unheralded rookie has 111 yards rushing and 44 receiving yards on five grabs.
For good measure, he added a thrilling 37-yard kickoff in the Washington NFL team's 17-14 win over the Cincinnati Bengals on Aug. 20.
Patterson's exploits have caught many off guard. When Washington trained in Richmond, he was a lowly fifth on the running backs depth chart.
It's starting to look like he might start the season as No. 2 behind last year's top ball carrier, Antonio Gibson, who had 795 yards rushing last season.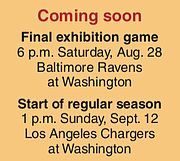 "This is just the beginning," Patterson told the Washington Fan Nation. "I can be versatile. I'm a blue collar, underdog type of guy and I can handle business."
He has drawn comparisons to 5-foot-10 Alfred Morris, a sixth round draft pick in 2012 out of Florida Atlantic University. Morris unexpect- edly erupted for 1,613 rushing yards and 13 touchdowns as a rookie and went on to have three straight 1,000-plus rushing seasons for Washington.
From Glenn Dale, Md., Patterson grew up a Washington fan along with his twin brother, James, who is 6 feet tall.They were born Dec. 23, 1999.
At St. Vincent Pallotti High School in Laurel, Md., it was actually James who drew more scouting attention than Jaret. They enrolled at Buffalo as a "package deal" and sat out their first season to qualify for full scholarships.
Jaret developed quickly at the Mid-American Conference school and last season enjoyed one of the greatest games ever played by a running back. In a victory over Kent State University, he rushed for 409 yards and eight touchdowns, matching Howard Griffith for the most rushing touchdowns in the history of college football. Griffith ran for eight touchdowns for the University of Illinois in 1991.
In three seasons toting the leather for the University of Buffalo Bulls (not to be confused with NFL Buffalo Bills), Patterson rumbled for 3,884 yards and 52 touchdowns in 33 games.
His brother James made All-MAC and is now a senior linebacker on the school's 2021 roster. He may reach the NFL next year.
Despite his collegiate triumphs, Jaret was not among the 259 players selected in the six-round NFL draft April 29 through May 1 in Cleveland. He became Washington's lone undrafted free agent.
During July practice sessions at the Bon Secours Training Center in Richmond, Patterson went largely unnoticed.
Now he's the oh-my-gosh surprise you can't help but notice.