Jaret Patterson rushes into the record books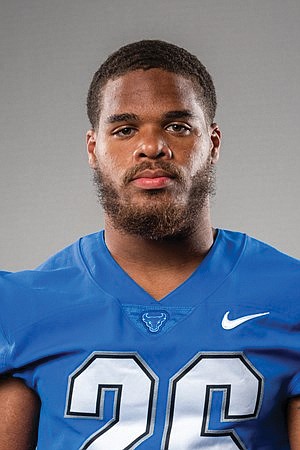 Jaret Patterson has raced straight into the college football record books and smack dab into the NCAA spotlight.
The swift, powerful University of Buffalo junior rushed for eight touchdowns and 409 yards in the Bulls'70-41 win over Kent State University last Saturday in Buffalo.
The eight touchdowns tied former University of Illinois star Howard Griffith for the most rushing touchdowns in a single game in FBS (top level) annals. Griffith had eight touchdowns against Southern Illinois University in 1990.
Patterson's 409 yards on the ground is second all time to former University of Oklahoma back Samaje Perine, who had 427 yards in a 2014 game against the University of Kansas.
Patterson, listed at 5-foot-9 and 195 pounds, likely would have surpassed both Griffith and Perine if he'd played the full game. He was taken out by Coach Lance Leipold in the late going as a show of sportsmanship.
On the season, Patterson has 920 yards and 16 touchdowns through four games. In his previous outing, he racked up 301 yards and four touchdowns against Bowling Green State University.
No overnight sensation, Patterson rumbled for 1,013 yards and 14 touchdowns as a freshman and 1,799 yards and 19 touchdowns as a sophomore.
As historically significant as his effort was against Kent State, he had to share star of the game honors with his twin brother, linebacker James Patterson, who led the team with 13 tackles.
The twins hail from St. Vincent Pallotti High School in Glenn Dale, Md.
James, listed as 6-foot, 230 pounds, was by far the more heavily recruited of the brothers in high school. In fact, Jaret and James chose the University of Buffalo as a "package deal."
The Mid-American Conference Bulls, now 4-0, will travel to Athens, Ohio, for a game at Ohio University Saturday, Dec. 5.