Panthers win 28-27 over Trojans; now looking for NCAA bid
Fred Jeter | 11/13/2015, 4:51 p.m.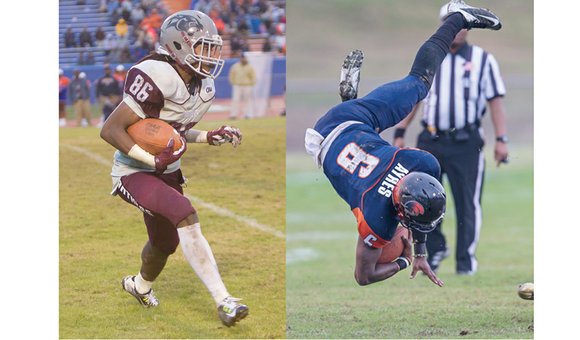 Virginia Union University has rested its case — a powerful case for sure — in its effort to win a NCAA football playoff invitation.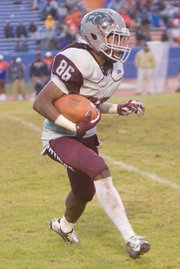 Now the Panthers anxiously await the verdict.
The NCAA Division II Super Region 1 pairings will be announced shortly after 5 p.m. Sunday, Nov. 15.
There is no panel vote per se. The seven-team regional field will be selected on a mathematical formula based on the teams' win-loss records and strength of schedule.
The latest poll has Bowie State University holding strong at No. 2 and VUU at No. 7.
First-round games are Saturday, Nov. 21. The 28-game event culminates in a championship match Dec. 19 in Kansas City, Mo.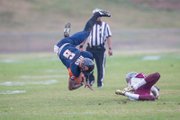 VUU is among the nation's most improved programs under second-year Coach Mark James. The university relied on a late rally to nip Virginia State University 28-27 in the rain in Ettrick last Saturday.
"We've gone from 3-7 (during Coach Michael Bailey's final coaching season) to 7-3 (last year) to 8-2 with the possibility of the NCAAs. We've done about all we can do," said Coach James.
VUU trailed 24-13 at halftime at VSU before quarterback Shawheem Dowdy and tailback Hakeem Holland picked up the pace. Dowdy passed for 352 yards and three touchdowns, including late-game strikes of 15 yards to Olu Izegwire and 54 yards to Chazto McKenzie.
Holland raced for 64 yards and a touchdown to push his seasonal rushing total to 1,103 — the second highest ever by a VUU freshman behind Andre Braxton, who rushed for 1,383 yards in 1997.
The Baltimore native also snagged a pivotal 2-point conversion from Dowdy.
Defensively, Paulin Miano had three tackles behind the line of scrimmage at VSU, lifting his season total to 21, a school record. Kevin Williams set the old mark of 19 in 1991. Joe Blanks led in total tackles against the Trojans with nine.
Hopeful of more games to play, VUU is 8-2 overall and 6-1 in the CIAA. Losses were to Gardner-Webb University (13-9) and Bowie State (23-19).
"We're eight points from being undefeated, and in both our losses, we dominated the statistics," said Coach James. "That's pretty exciting."
Coach James said his Panthers will practice this week on a normal schedule in anticipation of the university's first playoff invitation since 1991 when Joe Taylor, now VUU's athletic director, was VUU's coach.
VUU has been dominant statistically this season on both sides of the ball.
The Panthers were second in the CIAA in scoring at 33 points per game and total offense with 436 yards per game. Bowie State led in both categories.
Defensively, VUU ranked first in total yards allowed per game — 221 — and rushing yards —73.
The Panthers finished second in the CIAA Northern Division behind Bowie State and are denied a trip to the Nov. 14 CIAA conference championship game in Durham, N.C.
The CIAA title game will match Bowie State against Southern Division champion Winston-Salem State University, which is 5-5 overall and 5-2 in the CIAA.
Bowie State qualified despite having two CIAA victories nullified for an ineligible player.
Winston-Salem advanced despite losses to Chowan University, which is fourth in the Northern Division and Shaw University, which finished 1-9.
Under first-year Coach Byron Thweatt, VSU finished a hard-luck 6-4 overall and 4-3 in the CIAA. The Trojans lost to VUU 28-27 and Bowie State 22-19.
A highlight this season for VSU was sophomore Trenton Cannon, who rushed for a school record of 1,178 yards, breaking the old mark of 1,142 set by Jordan Anderson in 2013.
Cannon rushed for 158 yards against VUU and caught a 67-yard touchdown pass from Tarian Ayres.