VUU Panthers to take on VSU Trojans Saturday at Hovey Field
11/4/2016, 8:52 p.m.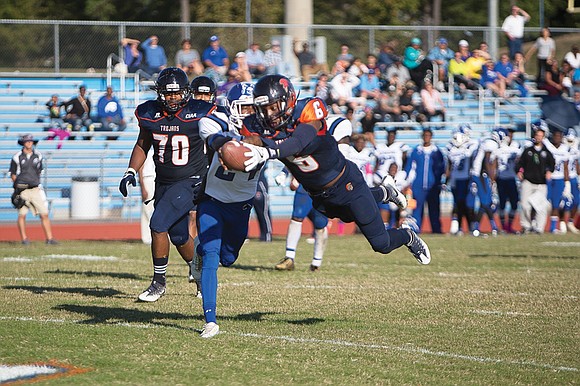 The much anticipated Virginia Union University-Virginia State University "showdown" has lost some of its luster, especially for the host Panthers.
VUU's maroon and steel balloon popped following an agonizing 24-21 loss at Elizabeth City State University last Saturday in a game in which the Panthers had an initial commanding 14-0 lead.
The Panthers' loss eliminated Coach Mark James' squad from CIAA Northern Division championship contention.
Even with a victory this Saturday, Nov. 5, over VSU, VUU is likely to see an end to its once promising season, with the NCAA Division II playoffs remaining a distant long-shot.
VSU, an emphatic 49-21 winner over Chowan University last Saturday, still clings to hope for the CIAA division title.
If the Trojans defeat VUU and Bowie State University loses at home to Elizabeth City State University, VSU would be the Northern Division winner and would advance to the CIAA championship title game Saturday, Nov. 12, in Salem.
You can figure VSU's contingent will have one eye on the live action at Hovey Field on Saturday, and perhaps another eye on updates from the matchup in Maryland. Both games have 1 p.m. kickoffs.
The CIAA Southern Division crown will be determined Saturday, Nov. 5, by defending CIAA champ Winston-Salem State University at Fayetteville State University.
VSU at VUU might be dubbed the "Go Figure Bowl."
VUU lost to Chowan and Elizabeth City State.
VSU defeated Chowan and Elizabeth City State.
VSU lost to Bowie State and Winston-Salem State.
VUU defeated Bowie State and Winston-Salem State.
And here's the strangest development of all:
Depending on how things shake out in Week 10, VUU possibly will have defeated the Northern and Southern division champs during the season — Bowie State and Winston-Salem State — but have little to show for the effort.
Hovey Field fans this Saturday will see two senior quarterbacks in what could be their final games, plus two powerful running attacks.
VUU's Shawheem Dowdy and VSU's Tarian Ayres have been leading their respective squads much of the past three years.
On the ground, VUU features senior William Stanback, the CIAA leader in yards rushing per game (129.7) and touchdowns (15).
The bullish and surprisingly quick 230-pound Stanback had 143 yards on 16 carries against Elizabeth City State.
VSU has arguably the best one-two tandem in all of HBCU football in senior Kavon Bellamy and junior Trenton Cannon.
Cannon racked up 162 yards and three touchdowns against Chowan, and averages 105.1 yards per game for the season.
Bellamy had 109 yards and a touchdown against Chowan, and averages 97.1 yards per game.
On the season, Cannon has 13 touchdowns and Bellamy, 12.
"Air Ayres" was 14 for 25 for 176 yards passing, with two touchdowns to Josh Harris.
At Elizabeth City State, Dowdy was just 7 for 17 for 102 yards.
From a team standpoint, VSU has had the better defense and offense.
The Trojans permits just 18.3 points per game, while the Panthers allow 25.1. VSU allows a league lowest 276 yards per game, while VUU has permitted 372.8 per game.
On attack, VSU averages 37.6 points and 399 yards, while the Panthers average 29.6 points and 392 yards.
With a victory over VUU, VSU might also earn playoff consideration, but there are no guarantees.
VSU would be in grand position to achieve all goals had it not blown a 17-point second half lead at Bowie State University and lost the game by one point.                                
VUU proved it could beat the best teams in the conference, but a pair of unexpected road losses against Chowan and Elizabeth City State will long haunt the Panthers.