VSU topples VUU Panthers 48-21
11/12/2016, 12:10 a.m.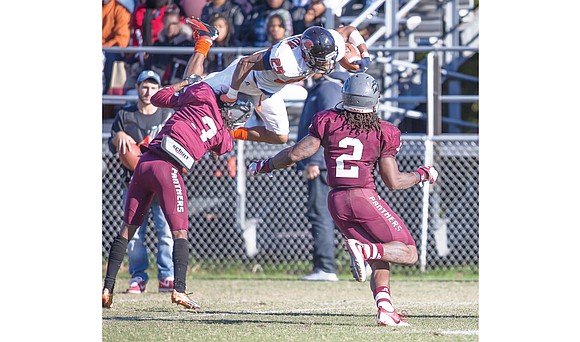 Virginia State University zoomed across the finish line of the 2016 football season as if powered by rocket fuel.
By contrast, Virginia Union University appeared to be running on fumes as it sputtered to the end. 
Showing off last Saturday before a Hovey Field crowd of 9,450 fans, the Trojans routed the host Panthers 48-21 in the season finale for both teams.
VSU finishes the football season 8-2 overall and 4-1 in the CIAA Northern Division under first year Coach Reggie Barlow.
VUU closes at 5-5 overall and 2-3 in the CIAA Northern Division in Coach Mark James' third season.
VSU's chances of winning the CIAA Northern Division and advancing to the CIAA championship game were dashed when Bowie State University rolled over visiting Elizabeth City State University 56-7.
Bowie State is also 4-1 in the division but won the head-to-head tiebreaker over the VSU Trojans.
In a rematch of last year's title game, Bowie State will face defending champion Winston-Salem State University on Saturday, Nov. 12, in Salem.
VSU followed its usual recipe for victory — a double-barreled ground game — in defeating VUU.
Junior Trenton Cannon raced for 187 yards and three touchdowns and senior Kavon Bellamy added 133 yards and a touchdown.
In a rarity, both Cannon (1,115 yards) and Bellamy (1,003 yards) passed the 1,000-yard milestone.
For the season, VSU was the runaway CIAA leader in rushing with 2,800 yards and 5.8 yards per carry.
Senior quarterback Tarian Ayres passed for 169 yards in his Trojans farewell, with touchdown connections to Trey Reed and Christian Harden.
VSU's Bryant Frazier added two sacks against VUU's senior quarterback Shawheem Dowdy. Frazier, from Meadowbrook High, finished as the CIAA's sacks leader with 13.5. Geo Feggins led VSU with 10 tackles in his final college game.
VSU's losses were to division champs Bowie State and Winston-Salem State universities. Now the Trojans have all winter to ask "What if?" regarding the Bowie State loss. In that game, the Trojans led by 17 in the second half, only to let it slip away.
Regarding VUU, the Panthers played their best against the best — defeating both Bowie State and Winston-Salem State universities.
Coach James' squad was in position to win it all — including the NCAA Division II playoff berth — after coming from 21 points down to defeat Bowie State in Week 8.
After that, the Panthers wilted, losing at Elizabeth City State University 24-21, then to VSU with a lackluster effort.
Coach James must replace seniors Dowdy (2,060 passing yards for the season, with 22 touchdowns) and CIAA rushing leader William Stanback.
Dowdy threw two touchdown passes to Jusse Yorke and another to Gustavious Dames against the Trojans.
In his lone VUU season after transferring from the University of Central Florida, Stanback had 132 yards against VSU and finished with 1,299 yards and 18 touchdowns.
Only Andre Braxton and Bobby Phillips ever accumulated more ground yards wearing VUU steel and maroon. Braxton ran for 1,660 yards in 2000 and 1,383 in 1997. Phillips had 1,507 yards in 1993.
In his last three games, the 230-pound Stanback racked up 469 ground yards and may hear his name called in the NFL spring draft.
VUU won four straight games at one juncture this season, but the Panthers' defense went soft toward the end.
The Panthers gave up more than 600 yards in its deflating loss at Chowan University and surrendered 33 first downs and 560 yards against VSU.
On the season, VUU's robust offense accounted for 3,920 yards but the defense gave back 3,915.
To its credit, VUU faced a difficult schedule, starting with losses to Long Island University-Post and Newberry College, two schools that figure to make the NCAA Division II playoffs.
VUU has now gone 7-3, 8-3 and 5-5 in Coach James' three seasons on Lombardy Street. He inherited a program that was 3-7 in 2013 under Coach Michael Bailey.
VSU's Coach Barlow, a former NFL receiver who came to VSU from Alabama State University, is VSU's fourth coach in the last five years following Coach Andrew Faison (2012), Coach Latrell Scott (2013-14) and Coach Byron Thweatt (2015).
VSU must hate to see the season end.
Following the agonizing 38-37 loss at Bowie State, VSU went on a tear, routing Lincoln University 69-7, Chowan University 49-21 and Virginia Union 48-21.
For the Trojans, 2017 can't come soon enough.