Battle of quarterbacks as VUU tackles Bowie State on Saturday
10/22/2016, 3:36 p.m.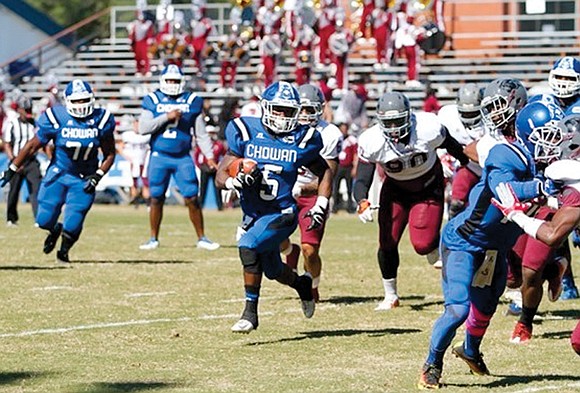 Virginia Union University's football defense has sprung a leak at a most inopportune time — with Bowie State University's explosive offense coming to Richmond.
The Panthers are reeling from a woeful 54-21 loss at Chowan University in North Carolina in which the host Hawks rang up a whopping 631 yards total offense.
And waiting to strike next is Bowie State's Amir Hall, aka "Air Amir," among the best passers in CIAA history.
VUU, which is 4-3 overall and 3-1 in the CIAA, can ill afford another stumble if the Panthers are to reach the Nov. 12 CIAA championship game in Salem, Va.
Meanwhile, Bowie State University, which is 5-2 overall and 4-0 in the CIAA, is looking to repeat as the CIAA Northern Division champion after outlasting Virginia State University 38-37 last Saturday in Maryland.   
Hall threw for four touchdowns against VSU and ran for another. The mobile, rocket-armed 6-foot-4 sophomore and first-year starter leads the CIAA with 338 passing yards per contest.
Hall's preferred target is Nyme Manns, the CIAA leader with 111 receiving yards per game.
At Hovey Field on Saturday, Oct. 22, the game within a game will showcase Hall, the brilliant newcomer, against VUU quarterback senior Shawheem Dowdy.
This ranks with marquee quarterback matchups in all of HBCU football and figures to take the better part of four hours to unfold.
Dowdy had a record performance, albeit in defeat, at Chowan University. The third-year Panthers' starter completed a school record 31 passes in a record 68 attempts. That produced 380 yards and two touchdowns.
Dowdy connected with Lavatiae Kelly eight times for 127 yards, Jusse Yorke 10 times for 87 yards and Chaz McKenzie five times for 58 yards.
On the debit side, VUU's vaunted running game was silenced as William Stanback was limited to 13 yards on 12 tries. Stanback entered the game as the CIAA's top rusher.
VUU's defense was inept stopping Chowan tailback Ty Lee on the ground (154 yards) or quarterback Randall Dixon in the air. Dixon ended the game with a school record 451 passing yards.
Although no such dubious mark is listed in the VUU record book, the 631 yards allowed ranks with the worst defensive efforts in VUU annals.
The loss at Chowan also broke VUU's four-game winning streak.
Despite the disappointment, it's not over for third-year Coach Mark James' Panthers.    
VUU still could capture at least a tie for the Northern Division crown by winning the last three games of the season — against Bowie State University at home, at Elizabeth City State University in North Carolina and at home against Virginia State University.
VUU's only route to the NCAA Division II playoffs would be to win its remaining games and tack on the CIAA championship in Salem.
Already, the Panthers have defeated the likely CIAA Southern Division winner, Winston-Salem State University.
Even then, there are no assurances because the CIAA champion does not have an automatic bid to the NCAAs.
Last fall at Bowie State University, the Bulldogs defeated the Panthers 23-19 to essentially nail down the Northern Division championship. Dowdy threw for 399 yards and three touchdowns in the loss.
Bowie quarterback Nyema Washington threw for 206 yards and two touchdowns, but was intercepted four times.
Hall beat out Washington for the starting quarterback job this season and it doesn't appear he'll be relinquishing the spot any time soon.
Prior to Hall's game against Virginia State, he was ranked fifth in the NCAA Division II in passing yards.
Bowie State Coach Damon Wilson didn't have to venture far to recruit Hall, who grew up in Bowie, Md.
Hall arrived at Bowie State with a winning swagger. In Hall's four years quarterbacking in high school for Riverside Baptist School, the private school in Upper Marlboro, Md., lost only twice.