CIAA football roundup
8/4/2017, 9:44 a.m.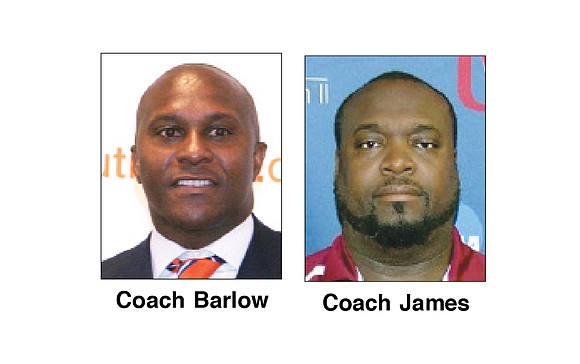 Virginia Union University's Lavatiae Kelly is feared as a triple threat by rival CIAA football coaches.
The senior player for the Panthers has been named to the Preseason All-CIAA team at three different positions — wide receiver, punt returner and kickoff returner.
Selections were announced July 10 by the CIAA Football Coaches Association at its annual Kickoff Banquet in Salem.
The other preseason pick from VUU is sophomore defensive back Sterling Hammond.
Virginia State University also had two players make the list — senior running back Trenton "Boom" Cannon and senior linebacker Brandon Lynch.
A native of Miami, Kelly transferred to VUU from Tennessee State University. He shined as a receiver (46 receptions, 792 yards, six touchdowns), kickoff returner (13 for 316 yards) and punt returner (31 for 360 yards, with a touchdown).
Hammond, who is from Essex High School in Tappahannock, had 66 tackles plus an interception a year ago. He was heavily recruited by Division I schools before opting for VUU. 
•
Bowie State and Winston-Salem State universities were picked to repeat as CIAA Northern and Southern Division football champions, respectively. Last year, Winston-Salem State defeated Bowie State 43-33 in the CIAA title game in Salem.
Since rejoining the CIAA in 2011, Winston-Salem State has been the conference's dominant program. The Rams won CIAA titles in 2011, 2012, 2015 and 2016 and runner-up to Virginia State University in 2014. There was no CIAA title game in 2013.
Bowie State junior quarterback Amir Hall figures to be the CIAA's top individual attraction. Hall passed for 327 yards per game a season ago, with 30 touchdown passes. He also ran for nine touchdowns.
The Bowie State Bulldogs visit VSU Oct. 14, and VUU travels to Bowie State on Oct. 21. Those games will likely decide the CIAA North championship.
•
The CIAA Football Coaches Association expects VSU and VUU to be in the thick of it this season.
VSU is picked to finish second and VUU third in the Northern Division, followed by Chowan, Elizabeth City State and Lincoln universities.
VUU enters its fourth season under Coach Mark James, whose record is 20-11 overall and 5-5 last season. VSU enters its second season under Coach Reggie Barlow, who was 9-2 in his first year.
Coach James' Panthers open Saturday, Sept. 2, at Long Island University-Post in Brookville, N.Y., while VSU's first game is Saturday, Sept. 2, at Norfolk State University, with a 6 p.m. kickoff, in a renewal of the Labor Day Classic. 
•
The Sept. 9 game featuring Bowie State at Winston-Salem State will be streamed on ESPN3 as part of the NCAA's 18-game television package to promote Division II football. Kickoff is 4 p.m. at Bowman Gray Stadium in North Carolina.
No other CIAA games are included in the TV package, but the Nov. 4 and Nov. 11 dates are still open.
•
In a late addition to its schedule, VSU has added a 10th game, but the timing may be awkward.
The Trojans will play host to Shaw University at 7 p.m. Nov. 9 at Rogers Stadium in Ettrick.
The CIAA championship game is set for 1 p.m. Nov. 11 in Salem. Should VSU qualify for the title game, it would play twice within 48 hours at different sites.