VUU Panthers trip themselves with 3 interceptions, 12 penalties
Fred Jeter | 9/16/2016, 7:02 p.m.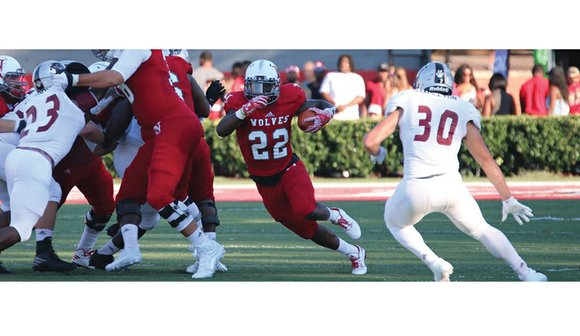 Two games into its football season, Virginia Union University has no wins and lots of problems.
Tormented by penalties and turnovers, the Panthers now face a road trip to play CIAA juggernaut Winston-Salem State University on Saturday, Sept. 17.
Third-year Coach Mark James' squad fell to 0-2 with a sloppy 42-22 loss last Saturday on the road at Newberry College in South Carolina.
VUU couldn't get out of its own way.
In South Carolina, the Panthers were penalized 12 times for 110 yards while suffering three interceptions and a lost fumble.
In its opening 14-12 loss to Long Island University-Post on Sept. 3, VUU was flagged 14 times for 117 yards, with three interceptions and two safeties.
Winston-Salem State is an unlikely "get well" destination for ailing foes. The Rams have won the crown four of the past six years (in 2013 there was no champion) and have pummeled VUU since returning to the CIAA in 2010 after a stint in the MEAC.
From 2010 to 2013, Winston-Salem State bombed VUU, then coached by Mike Bailey, by ugly scores of 47-13, 67-16, 35-6 and 55-15.
The Panthers did not play the Rams in 2014 or 2015.
In 2012, under Coach Connell Maynor, Winston-Salem State advanced to the NCAA Division II playoff finals — the best showing ever by an HBCU program.
With a 23-17 victory last week at Catawba College in Salisbury, N.C., Winston-Salem State is 1-1 this season under third-year Coach Keinus Boulware, who was named coach in 2014 when Coach Maynor left for Hampton University.
VUU isn't without some bright spots.
Lavatiae Kelly is among CIAA leaders in receiving. A transfer student from Tennessee State University, Kelly had five catches for 116 yards at Newberry College, including a 48-yard touchdown. In two games, Kelly has 12 receptions for 199 yards.
Kelly also ran back three kickoffs for 76 yards.
The Panthers' William Stanback, a transfer from the University of South Florida, rambled for 94 yards and a touchdown on nine carries at Newberry College, pushing his two-game rushing total to 198 yards.
VUU's preseason All-CIAA quarterback Shawheem Dowdy has thrown for 366 yards in two games, but his five interceptions — including two at Newberry — have been costly.
Sanford, Fla., native Karl Calhoun was in on 11 tackles, but an overworked VUU defense sprung leaks galore.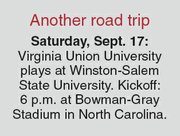 Newberry College outgained VUU 450 yards to 355, dominating time of possession 39:38 minutes to 20:22.
The South Atlantic Conference member sustained touchdown drives, in order, of 71, 98, 85, 46, 85 and 45 yards.
VUU must shore up its defense and reduce mistakes if it is to get into the winning column against Winston-Salem State.
This rocky takeoff was unexpected.
VUU went 15-6 during the past two seasons under Coach James, reaching the NCAA playoffs last year for the first time since 1991. In a preseason vote of coaches, VUU was picked to finish second this season in the CIAA Northern Division behind Bowie State University.  
The Panthers will make a third straight long bus ride on Sept. 24 to Fayetteville State University. The next home game is Oct. 1 against St. Augustine's University. Homecoming is Oct. 8 against Lincoln University.