VUU loses squeaker to Winston-Salem State
9/22/2017, 10:05 p.m.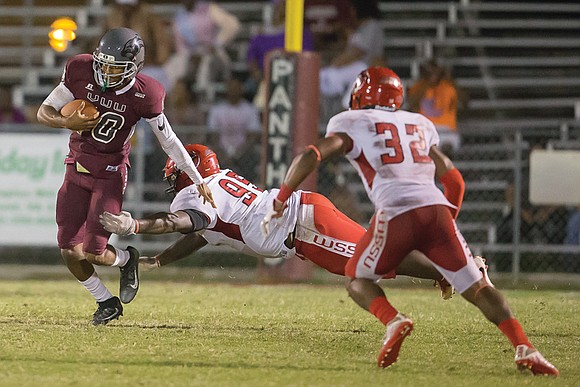 Too many penalties and too little punt protection have put Virginia Union University in a foul mood.
The Panthers are now dejectedly looking at a 1-2 record.
Coach Mark James' football team is seeking to tidy up its trouble spots soon or things could get worse with longtime CIAA rival Fayetteville State University when the Broncos take on the Panthers this Saturday, Sept. 23, at Hovey Field in Richmond.
In losing to Winston-Salem State University 21-20 last Saturday, host VUU was flagged for 14 penalties worth a staggering 161 yards in losses.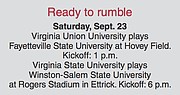 Still, the Panthers were primed for victory until a special team's snafu proved fatal.
With VUU up 17-14 with 12 minutes left on the clock, Winston-Salem State tight end Stedman Rush blocked VUU's Russell Ballance in the end zone and the Rams' recovered on the Panthers' 1-yard line.
Winston-Salem State quarterback Rod Tinsley then pounced over the goal line to make it 21-17.
VUU then pulled up on a 42-yard field goal by Jefferson Souza, bringing the score to 21-20 at 7:58, but that ended the scoring.
The physical action didn't end with the scoreboard clock running out, however. With nerves frayed, a scuffle broke out during the postgame handshake line. Much to their credit, the coaches broke up the potential brawl before any major damage was done.
Still two members of the media, John Dell of the Winston-Salem Journal and Steven Gaither of HBCUGameDay, had electronic equipment knocked from their hands.
The loss was bitter tonic for everyone wearing maroon and steel on the field and in the Hovey Field bleachers. On what was the inaugural Willard Bailey Classic honoring the former VUU coaching great, the handsome trophy was awarded to the visitors, who took no small pleasure in hamming it up for the cameras at midfield.
VUU was operating minus leading rusher Tabyus Taylor, who was sidelined with an ankle injury.
A top home team highlight before a late-arriving crowd of 7,312 was a 60-yard touchdown return by VUU's Lavatiae Kelly from a blocked Rams punt.
Kelly added five receptions for 67 yards. Quarterback Darius Taylor passed for 127 yards, but was sacked four times. Darius Taylor also was VUU's leading rusher with 65 yards and a touchdown.
Defensively, Sterling Hammond had two interceptions and Tevin Gordon recorded nine tackles.
Another VUU problem area was rush defense. While ineffective in the air, Winston-Salem State ran for 259 yards and a 6-yard average.
Stopping the run won't get any easier in this Saturday's game. The Panthers' defense must prepare for Fayetteville State's Stevie Green, who raced for 250 yards and four touchdowns in the Broncos' 45-42 loss to Elizabeth City State University.
Green was the 2016 CIAA Offensive Rookie of the Year.
VUU defeated Fayetteville State 22-16 a year ago in North Carolina. To outscore the Broncos again, VUU might need to avoid another tsunami of penalties and make sure all their punts are launched cleanly.

Meanwhile, Winston-Salem State (2-1) returns to the area a second straight Saturday to play a rested and ready-to-rumble Virginia State University Trojans' outfit that is coming off a bye week.
VSU is 2-0 this season and has won six straight games over the past two seasons under second-year Coach Reggie Barlow.
The Trojans travel best via the ground with Trenton "Boom" Cannon, who had 297 yards on the ground in the team's first two outings this season. Cannon is on a course to become VSU's all-time rusher and scorer.
VSU lost at Winston-Salem State 35-14 last year in the fourth week of the season.
Since then the Trojans have demonstrated one of the most prolific offenses in NCAA Division II. In the team's last seven games in 2016, the Trojans averaged 48 points. So far this season, VSU has defeated Norfolk State University 14-10 and Johnson C. Smith University 44-6.   
The game against Winston-Salem State will be VSU's home opener and serve as Military Appreciation Day for soldiers and personnel from nearby Fort Lee.