VUU heads into homecoming with 50-21 win over St. Aug.'s
Fred Jeter | 10/7/2016, 8:10 p.m.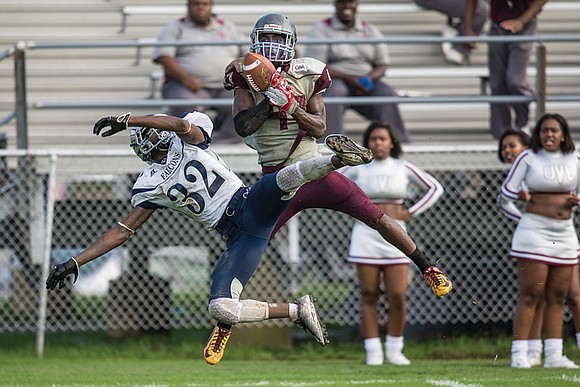 Virginia Union University has dominated its CIAA Southern Division football opponents.
The question now is how will the Panthers fare against their own Northern Division opponents, beginning Saturday, Oct. 8, in its homecoming game against Lincoln University of Pennsylvania?
Heading into homecoming weekend, VUU is 3-2 overall after a sputtering 0-2 start.
This weekend's game at Hovey Field marks VUU's first of five consecutive Northern Division tests.
For three straight weeks, VUU has trounced a CIAA Southern affiliate. Last Saturday, Coach Mark James' Panthers routed St. Augustine's University 50-21 at Hovey Field.
VUU was dazzling as quarterback Shawheem Dowdy, receiver Lavatiae Kelly and ball carrier William Stanback shared bows.
Dowdy, after missing the previous game with a leg injury, passed for 247 yards and five touchdowns. The five touchdowns is one short of the VUU single-game record of six held by Lamar Little (2007) and Carl Wright (1991).
Kelly had eight receptions for 100 yards, with a record-tying three touchdowns. A host of former Panthers, most recently Joseph Jean-Pierre in 2010, have had three touchdown grabs in a game.
The relentless Stanback added 159 yards overland with a 38-yard touchdown to start the scoring. The transfer student from the University of Central Florida leads the CIAA in rushing — 135 yards per game — and rushing touchdowns — eight.
Stanback has rambled 675 yards through five games and has an outside shot at VUU's all-time, one-season standard of 1,660 yards set by Andre Braxton in 2000.
Another VUU standout has been punter Russell Balance. The 6-foot-3 sophomore from Southampton High School booted six times for a 40-yard average, four times pinning the St. Augustine's Falcons inside their own 20.
The high-test VUU offense figures to be licking its chops in anticipation of hapless Lincoln University. The Lions are 1-4 and coming off a demoralizing 51-10 home loss to Winston-Salem State University. Lincoln has allowed 136 points in the last three outings.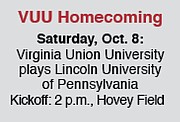 A year ago in Pennsylvania, VUU blasted Lincoln 66-27, spoiling the Lions' homecoming. VUU ran the ball for a whopping 390 yards in that rout.
Lincoln University dropped football after the 1960 season and brought it back in 2008. Since then, Lincoln is 14-71 overall and 4-41 in the CIAA.
VUU charges into the jaws of its CIAA schedule on Saturday, Oct. 15, at Chowan University. The Panthers will close the regular season with matchups against Bowie State, Elizabeth City State and Virginia State universities.
Because of non-conference losses to Long Island University-Post and Newberry College of South Carolina, VUU will have trouble making noise in the NCAA Division II Regional ratings.
Still, VUU is in position to win the CIAA Northern Division and advance to the CIAA championship on Nov. 12 at a site to be determined.
VUU's last CIAA title was in 2001 under Coach Willard Bailey. Before that, the Panthers won the CIAA championship in 1986 under Coach Joe Taylor.
The CIAA does not receive an automatic bid to the NCAAs. A year ago, both VUU and CIAA Northern Division champ Bowie State University advanced to the NCAAs as at-large entries. Winston-Salem State University was the CIAA champion. 
In 2015, VUU made its first NCAA playoff appearance since 1991. The Panthers were first-round losers to Slippery Rock University in Pennsylvania.
VUU alumni have ample cause to smile while gathering this weekend on Lombardy Street.
VUU is 18-8 the past three seasons under Coach James. The Panthers were 16-24 in the four seasons prior to that.