Panthers looking for 3-peat Saturday against St. Augustine's
Fred Jeter | 9/30/2016, 8:26 p.m.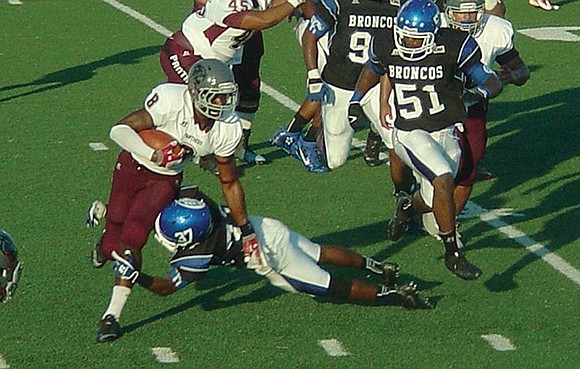 William "Will" Stanback suffered a misstep, of sorts, in Orlando, Fla., and lost all football traction.
Now he's back in full stride in Richmond.
Call it the "Stanback comeback."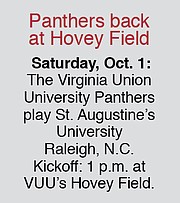 After transferring from the University of Central Florida, where he was dismissed from the team a year ago, he has resurfaced as a ball-carrying force at Virginia Union University.
Combining power and speed, the 6-foot-2, 225-pound Stanback has taken over the CIAA rushing lead and, in so doing, has spurred the VUU Panthers to consecutive wins.
VUU hopes to extend its victory streak to three Saturday, Oct. 1, against visiting CIAA rival St. Augustine's University of Raleigh, N.C.
Kickoff at Hovey Field is 1 p.m.
Stanback has been overwhelming in back-to-back victories for Coach Mark James' Panthers.
In VUU's 22-16 win at Fayetteville State University last Saturday, Stanback rambled for 199 yards and three touchdowns, including a dynamic 45-yarder, on 31 carries.
On Sept. 17, Stanback punished host Winston-Salem State University with 115 yards and three touchdowns on 23 totes in a VUU victory.
That's 314 yards and six touchdowns the past two games.
VUU's single-game rushing record of 260 yards was set by Judge Thomas against St. Paul's College in 1976.
Stanback's heroics have been timely as VUU is working with something less than full firepower.
The Panthers played the fourth quarter at Winston-Salem State and the entire Fayetteville State game minus its ace quarterback, Shawheem Dowdy.
Dowdy's status remains iffy with a knee ailment.
Former starter Ken Graham replaced Dowdy at quarterback until he, too, was injured. That's when Kevin Green, a junior from Petersburg, finished up.
Also on the sidelines with a shoulder injury is last year's top ground gainer, Hakeem Holland. He may miss several more games.
Other standouts at the Fayetteville State game were Brandon Thorpe, who returned a blocked field goal 51 yards, and Lavatiae Kelly, who had a 77-yard punt return. 
Stanback hails from Uniondale High School in Hempstead, N.Y. He got off to a rousing start at the University of Central Florida, rushing for 443 yards and six touchdowns as a freshman, and then 697 yards and 10 touchdowns as a sophomore, earning All-American Athletic Conference (AAC) honors.
His career in Orlando began unraveling his junior season. He first suffered an ankle injury that reduced his effectiveness. Then, after three games, Stanback was cut from the team by Coach George O'Leary for what the school announced as "continuous failure to comply with student policy and team rules."
UCF was in the midst of a horrendous season (0-11) that culminated with Coach O'Leary's resignation.
VUU started this season 0-2, but is now 2-2 overall and 1-0 in the CIAA heading into the matchup with St. Augustine's University.
The Falcons are 1-3, but coming off a 35-31 win over CIAA team Lincoln University. In the victory, quarterback D.J. Johnson from Highland Springs High School threw four touchdown passes.
An assistant coach at St. Augustine's, under Coach Tim Chavous, is Alvin Parker, a former VUU player and coach. Coach Parker has spent the previous 14 seasons coaching at Elizabeth City State University.
St. Augustine's eliminated football for nearly three decades before bringing it back in 2002.
While VUU has produced numerous pro players, St. Augustine's has an NFL claim to fame that centers on the late Ike Lassiter. The defensive lineman played in the NFL from 1962 to 1971. He was an All-AFL pick in 1966 with the Oakland Raiders and was a starter on the Raiders' 1967 Super Bowl team.