VUU savors rainy 39-6 homecoming victory
10/13/2016, 5:50 p.m.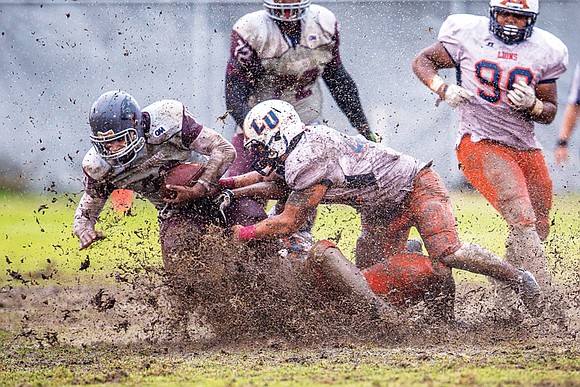 Virginia Union University believes in sharing its top athletes.
Chazton McKenzie draws rave reviews in both track spikes and football cleats for the Panthers.
"I just go with the flow," said the junior from Pompano Beach, Fla. "My favorite sport is whatever is in season. I came here for track, but Coach (Mark) James gave me a chance in football. Now I love that, too."
McKenzie has become a favorite target for quarterback Shawheem Dowdy as VUU sprints into the remainder of its schedule with a matchup in Murfreesboro, N.C., with Chowan University on Saturday, Oct. 15.
Now with four straight victories, the Panthers are coming off a 39-6 homecoming win over Lincoln University. The game was played at Hovey Field in persistent heavy rain.
Shining bright on a gloomy day, McKenzie helped make VUU's homecoming an athletic — if not social — success last Saturday with an attendance of just 1,350 people.
McKenzie started the rout with a 12-yard, first period touchdown reception from Dowdy. He added a 27-yard Dowdy aerial in the third stanza.
After missing a game earlier this year with a knee injury, Dowdy now has 13 touchdown passes for the season and is living up to the preseason hype.
McKenzie is among Dowdy's many air options.
Recruited to VUU by track Coach Wilbert Johnson, McKenzie set VUU's long jump record of 24-6¼ as a freshman. Last winter, he won the CIAA heptathlon at Indoor Championships.
The fleet Floridian was third in the CIAA outdoor long jump last spring.
While Dowdy dazzles via the air, William Stanback continues to have his way on the run. The senior transfer from the University of Central Florida rushed for 142 yards against Lincoln, lifting to 817 his CIAA-tops seasonal rushing haul.
Stanback ran for two touchdowns and caught a Dowdy pass for another against Lincoln, extending his seasonal touchdown total to 12.
VUU's high-test attack is triggered by a massive offensive line known as the "Hovey Heavies."
Senior center Abraham "Nacho" Garcia, a former starter at the University of Louisville, is a 6-foot-6, 340-pound body guard for Dowdy and company. He was named CIAA offensive lineman of the week.  
Defensively, VUU hit Lincoln with 13 tackles for losses, with Miles Pace and Willie Bailey each scoring two takedowns behind the line of scrimmage.
Again, Russell Ballance excelled with his limber right leg, launching five punts for a 44-yard average.
Chowan University (4-2 overall) has lost to VUU the past three years, but the Hawks have an explosive attack spurred by quarterback Randall Dixon and tailback Ty Lee.
Dixon is second behind Bowie State University's quarterback Amir Hall in CIAA passing yardage (1,532). Lee (565 yards) is second to Stanback in rushing.
Chowan switched from a two-year to four-year athletic program in 1992 and joined the CIAA in 2008. It is the only predominately white institution in any of the nation's four HBCU conferences — the CIAA, SIAC, MEAC and SWAC.
The Hawks have had two extra days to prepare for VUU. Because of concerns about Hurricane Matthew, Chowan played its scheduled Oct. 8 home game with Bowie State University on Thursday, Oct. 6. The Hawks rallied from a 21-0 deficit before losing 21-14.