VUU rolls over Lincoln 32-0; faces Chowan this Saturday
Fred Jeter | 10/14/2021, 6 p.m.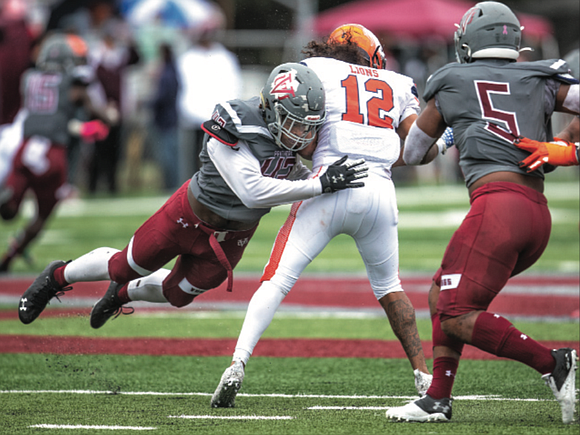 Virginia Union University celebrated its homecoming in festive fashion. Now it hopes to play party pooper on an opponent's special occasion.
To the delight of its alumni on homecoming weekend, the Panthers defeated Lincoln University 32-0 at Hovey Stadium last Saturday.
Now the team heads to Murfreesboro, N.C., and a date with CIAA opponent Chowan University for the Hawks' homecoming this Saturday, Oct. 16.
Chowan was 5-0 and ranked 24th nationally in the NCAA Division II prior to its 14-3 home loss to Bowie State University last Saturday. The loss drops Chowan to 2-1 in the CIAA, the same as VUU.
The Hawks travel via the right arm of senior quarterback Bryce Witt from Dinwiddie High School. Witt is Chowan's career leader in passing yards (8,226) and touchdowns (88) but struggled against Bowie State, throwing for only 69 yards.
The VUU-Chowan contest will serve as something of an elimination game in the schools' hopes of unseating perennial power Bowie State from the top of the CIAA Northern Division standings.
VUU's homecoming shutout win over hapless Lincoln University didn't come as easily as some suspected. The score was just 16-0 at halftime and 19-0 after three periods.
The statistics were not overwhelming. The Panthers had 15 first downs to Lincoln's 12 and a 273-183 total yardage lead.
The Panthers didn't put it away until backup quarterback E'Mond Caldwell hit Charles Hall for a pair of four-period touchdowns.
Hall, the "Jersey Jet" from Trenton, N.J., now has 17 receptions on the season for 487 yards and five touchdowns and is a clear NCAA Division II All-America candidate.
Starting quarterback Khalid Morris was 12-for-28 for 143 yards before giving way to Caldwell, a graduate student from Sanford, N.C. Morris left the game after taking a hard hit on a tackle.
Freshman Jada Byers ran for one touchdown and Morris connected with James Jackson for an early touchdown.
Still, it wasn't a smooth effort offensively for the hosts against an outmanned opponent. Marvin Holmes was called on to punt six times and VUU lost 81 yards on six penalties.
Xzavier Hines had 2.5 sacks, Jarret Sumiel had two sacks and Tovias Parker made an interception to highlight the defense. VUU sacked the Lincoln quarterbacks nine times.
It has been a choppy season for Coach Alvin Parker's Panthers. They have suffered fairly one-sided losses to three strong squads, FCS Hampton University (2-3), Division II national contender Valdosta State University (5-0) and CIAA rival Shaw University (3-3).
The victories have been scored against three teams with a combined 0-17 mark. Lincoln and Virginia University of Lynchburg are each 0-6 and Johnson C. Smith University is 0-5.
VUU needs a bold-letter victory and Chowan, even on its upcoming homecoming Saturday, is in the Panthers' crosshairs. VUU has won its last three games against Chowan, including a most recent 41-34 win in 2019.
Chowan is not an HBCU. It joined the CIAA in 2009 and participated in all CIAA sports until 2019. It now competes in Conference Carolinas for all sports other than football.
On Saturday, Oct. 23, the Panthers will return to Lombardy Street to face Bowie State University.