VUU's Darius Taylor is the Panthers' 'main man'
9/29/2017, 7:14 a.m.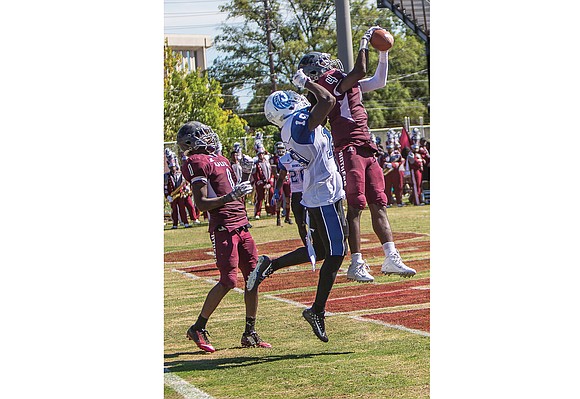 Until about a week before football season began, quarterback Darius Taylor wasn't even listed on Virginia Union University's 2017 roster.
Now he is arguably the Panthers' main man for CIAA accolades despite a two-year absence from the gridiron.
According to VUU Coach Mark James, Taylor sat out the entire 2015 and 2016 seasons after "going home to work" in his native Washington, D.C.
VUU's colors, maroon and steel, look good on Taylor, listed as a 6-foot-5 junior.
Before embarking on a two-game road trip — Saturday, Sept. 30, at St. Augustine's University in North Carolina and Saturday, Oct. 7, at Lincoln University in Pennsylvania —VUU squared its record at 2-2 with a riveting 47-40 win over Fayetteville State University last Saturday at Hovey Field.
Taylor's initials are D.T., but TD — as in touchdown — might be more apropos. The strong-arm newcomer torched the Broncos' secondary for five touchdown passes, including the game-winning 16-yarder to Chazton McKenzie 32 seconds from the finish.
Overall, Taylor completed 24 of 45 passes for 383 passing yards in just his third outing as a Panther. His preferred targets were track star McKenzie (eight catches, 129 yards, two touchdowns) and freshman Gustavious Dames of Florida (seven catches, 157 yards, two touchdowns).
The five scoring aerials was one shy of the VUU record of six shared by Lamar Little in 2007 and Carl Wright in 1991.
Just weeks ago, few people outside of VUU's  coaching office knew of Taylor. After starring at Washington's Calvin Coolidge Senior High School, Taylor played the 2013 and 2014 seasons at Monroe Community College in the New York City area.
Taylor did not participate in football in 2015 or 2016, but missed the action and signed with VUU last spring. Although enrolled, he wasn't added to the Panthers' football roster until very late.
According to VUU sports publicist Jim Junot, Taylor was kept off the roster until all the official paperwork regarding his transfer and eligibility was in order.
He didn't play in the team's opening game at Long Island University-Post and made his CIAA debut in the second week against Newberry College of South Carolina.
In three outings since taking the field, Taylor has completed 45 of 86 passes for 686 yards, six touchdowns and one interception.
Kickoff is 1 p.m. Saturday, Sept. 30, in Raleigh, N.C., for the game against St. Augustine's at George Williams Complex. The Falcons are 1-3, but coming off an eyebrow-raising 81-9 win over Lincoln University in which St. Augustine's tallied 602 yards in total offense.
Before that, St. Augustine's lost to Catawba College 49-0, Carson-Newman University 41-14 and Bowie State University 66-20.
VUU routed the Falcons 50-21 last year in Richmond. St. Augustine's is led by Darryl "DJ" Johnson, a former Highland Springs High School star.
Johnson threw for a school-record six touchdown passes in the one-sided victory at Lincoln University, but has struggled in the Falcons' other outings.
Information regarding VUU's Tabyus Taylor, the former All-State performer from Hopewell High School, isn't as uplifting.
After leading the team in rushing during the first two games, Taylor has missed the team's past two outings with an ankle injury and isn't expected back for at least another two weeks.
The Panthers return to Hovey Field on Saturday, Oct. 14, to face CIAA rival Chowan University in the annual Lucille M. Brown Community Youth Bowl.
If VUU is to earn its first CIAA title since 2001, it likely will need to improve on its rules violations. The Panthers were flagged for 15 penalties worth 115 yards against Fayetteville State.
Through four outings, VUU has surrendered 498 yards in penalties, compared to 234 infraction yards by its opponents.