VUU loses to LIU-Post; looking for victory in S.C.
Fred Jeter | 9/9/2016, 6:35 p.m.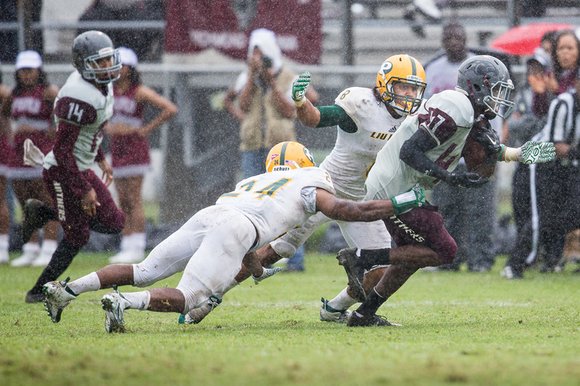 Virginia Union University is an NCAA Division II football program with plenty of Division I talent.
Some exciting Division I transfers made a positive impression but couldn't produce a victory in VUU's rainy opener last Saturday before 757 fans at Hovey Field in Richmond.
The Panthers fell 14-12 to Long Island University-Post of New York despite piling up 359 yards total offense to the visitor's 228 yards.
Now VUU faces a 408-mile trip to Newberry College in South Carolina to try and even its record under third-year Coach Mark James.   
An 0-2 start would place VUU in a precarious catch-up position for NCAA Division II polls and playoff consideration.
The Panthers earned their first playoff bid in a quarter century under Coach James a year ago.
Newcomers wearing maroon and steel were front and center last Saturday against LIU-Post. William Stanback ran for 104 yards, Lavatiae Kelly had 83 yards in receptions and Eddie Johnson made 16 tackles.
A lead blocker for VUU is 6-foot-6, 340-pound Abraham Garcia, a transfer from the University of Louisville.
All four of the players arrived at VUU after starting for Division I programs. Stanback transferred from the University of South Florida; Kelly from Tennessee State University; and Johnson from the University of Miami in Florida.
Also, former University of Florida defensive back Willie Bailey returned to the Panthers' lineup with 12 tackles after missing last season at VUU because of injury.
Coach James is hoping for a cleaner performance at Newberry.
VUU suffered three interceptions, two lost fumbles, a blocked punt and two safeties against LIU-Post. The Panthers also were flagged 14 times for 117 yards in penalties.
Newberry College also is now 0-1 after losing its opener 42-28 to Florida Tech last Saturday, but flexed considerable air power. Quarterback Raleigh Yeldell hit 37 of 55 passes for 447 yards and four touchdowns.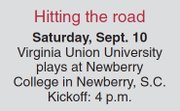 Overall, Newberry College had 550 yards in total offense.
VUU quarterback Shawheem Dowdy, a transfer from FCS Grambling State University, struggled against LIU-Post. The senior was just 15 for 35 through the air for 158 yards. He threw for one touchdown, but was picked off three times. The Panthers had a chance to tie the game within the closing minutes, but Dowdy's 2-point, extra point attempt fell incomplete. 
Hakeem Holland, last year's top rusher, gained 44 yards on 10 carries.
Miles Pace, a transfer from the University of South Florida, had a sack in his first game back after missing the second half of the 2015 season with a knee injury.
VUU lost a high-profile transfer in linebacker Holland Fisher, who began college at Virginia Tech. Coach James announced that Fisher dropped out of the program for personal reasons.
The road doesn't get any smoother following the game at Newberry College.
On Sept. 17, VUU goes to Western North Carolina to face defending CIAA champion Winston-Salem State University.
The VUU-Winston-Salem State matchup could be a preview of the CIAA championship game set for Nov. 12 in Durham, N.C.