VSU ends season with win; Winston-Salem State wins CIAA
11/19/2016, 12:06 p.m.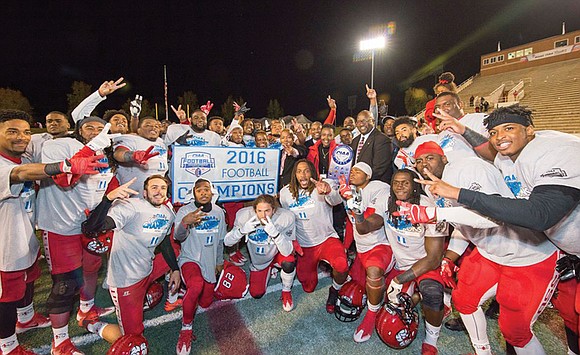 Virginia State University has added an exclamation mark to an already bold-letter football season.
In a late addition to the Trojans' schedule, VSU traveled 635 miles to defeat Tuskegee University in Alabama 45-35 last Saturday.
The Trojans finished the season 9-2 overall under first-year Coach Reggie Barlow.
Despite falling to 8-2, Tuskegee University advances to the NCAA Division II playoffs and will travel to Newberry College in South Carolina to play on Saturday, Nov. 19.
Despite its strong finish, VSU failed to make the NCAA playoffs. Instead, CIAA champion Winston-Salem State University advances to play this Saturday at Long Island University-Post in New York.
The Trojans' game at Tuskegee wasn't arranged until after VSU routed Virginia Union University 49-21 on Nov. 5 in Richmond.
Alabama is familiar turf for Coach Barlow. He is from Montgomery, Ala., 39 miles from Tuskegee, and played and coached at Alabama State University in Montgomery.
"Our guys knew it would be a challenge, but they really wanted the opportunity," Coach Barlow said of the extended season.
VSU employed its usual recipe for victory, "ground and pound," plus an added ingredient — kick returns — in dismantling the Golden Tigers.
Trenton Cannon rushed for 99 yards and two touchdowns and Kavon Bellamy added 82 yards on the ground.
Cannon, who is from Hampton, added a 75-yard kickoff return for six points and Marcus VanHook scored another touchdown on a 79-yard punt return.
The versatile Cannon closed his junior season with 21 touchdowns —18 rushing, two receiving and another on a kick runback. His 1,214 yards rushing breaks his own record of 1,128 set a year ago.
VSU was dominant statistically as well.
Consider these season totals:
• The Trojans scored 431 points; opponents, 221.
• VSU had 239 first downs; opponents, 176.
• The Trojans rushed for 3,029 yards; opponents, 1,158.
• VSU accumulated 4,545 yards total offense; opponents, 3,248.
• The Trojans had 11 interceptions; opponents, 4.
• VSU had 40 quarterback sacks; opponents, 11.
VSU's Bryant Frazier, the CIAA Defensive Player of the Year, finished with 14.5 sacks, adding two more at Tuskegee.
The CIAA Southern Division champion, Winston-Salem State University, and the Northern Division champ, Bowie State University, were the only teams to defeat VSU.
Winston-Salem State upended Bowie State 43-33 in Salem on Nov. 12 to win its second straight CIAA title. Winston-Salem State quarterback Rod Tinsley passed for three touchdowns.