VSU rolls over Lincoln 69-7
10/30/2016, 2:04 p.m.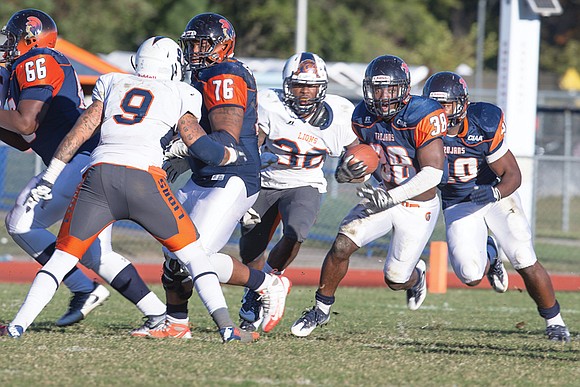 The first eight games of the Reggie Barlow coaching era at Virginia State University have gone well, earning at least a B-plus on a preliminary report card.
The next two games, however, will determine the final grade for his first year coaching the Trojans.
Celebrating homecoming, VSU upped its overall record to 6-2 by pounding hapless Lincoln University 69-7 last Saturday before 8,031 smiling faces at Rogers Stadium in Ettrick.
Stiffer competition lurks ahead, with Chowan University coming to Rogers Stadium on Saturday, Oct. 29. The regular season finale sends VSU to Virginia Union University on Saturday, Nov. 5.
VSU can finish as high as 8-2 overall and 4-1 in the CIAA Northern Division, perhaps tying for Northern Division honors.
Or the Trojans can dip as low as 6-4, and 2-3 in the CIAA, and be completely out of it.
Much will depend on how well the Trojans continue to dominate opponents with their ground attack.
VSU leads the CIAA by a wide margin with 267 rushing yards per game. Against Lincoln University, the Trojans rambled for 449 yards on 56 carries.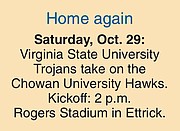 Trenton Cannon raced for 171 yards and three touchdowns, including a 94-yarder. Kavon Bellamy added 104 yards and two touchdowns. And newcomer George Cheetham, a freshman from Fredericksburg, added another 85 yards.
With the quarterback position, VSU fans got a glimpse of the future with sophomore Corderal Cook hitting nine of 13 passes for 77 yards.
Cook, from Atlanta, Ga., transferred to VSU from Alabama State University, where Coach Barlow previously coached.
Senior Tarian Ayres has been VSU's primary quarterback the past three seasons and figures to get most of the snaps during the final two weeks.
On the season, VSU has outscored its opponents 289-144, while producing 3,084 yards total offense to the opposition's 2,168.
On the ground, it's VSU 2,118 yards — opponents, 795.
Defensively, VSU leads the CIAA in fewest yards allowed — 272.6 yards per game — and is a narrow second to Winston-Salem State University in fewest points issued. Winston-Salem State has allowed 17.9 points per game, while VSU has permitted 18.
Realistically, it will be difficult for VSU to win the CIAA Northern Division, but it can sure determine who does. The tie-breakers (overall CIAA record and head-to-head with Bowie State University) are stacked in the others' favor.