VSU loses homecoming game 24-14
Fred Jeter | 10/25/2019, 6 a.m.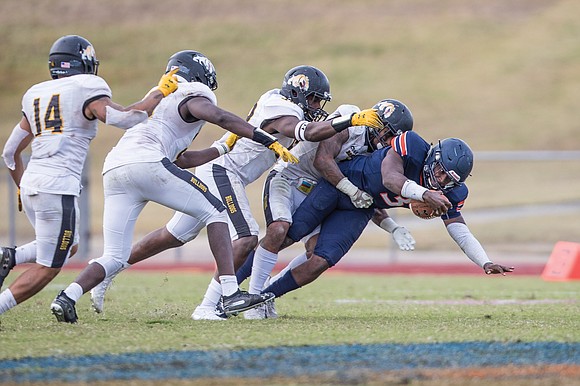 Virginia State University's football Trojans are going from one extreme to another.
Coach Reggie Barlow's squad is licking its wounds from a disheartening 24-14 homecoming loss last Saturday to Bowie State University that has a 7-0 record.
Next on the Trojans' schedule is a trip Saturday, Oct. 26, to Lincoln University in Pennsylvania that has a 0-7 record, where the Trojans figure to regain their winning stance.
A dose of Lincoln has been a cure-all for ailing teams ever since the Lincoln Lions rejoined the CIAA in 2011.
VSU dominated Bowie State on the statistics sheet, but not on the scoreboard. The Trojans had 23 first downs to the Bulldogs' 13, and 361 total yards to the visitors' 294.
VSU senior quarterback Cordelral Cook ran 19 times for 139 yards, but had 40 yards subtracted for sacks. Cook was also picked off twice.
VSU racked up 227 rushing yards against Bowie State and continues to lead the CIAA in overland offense.
The Trojans have been dominant on the ground, averaging 255 yards and 5.5 yards per pop. They have 20 rushing touchdowns.
Darius Hagans, Cook and Toure Wallace are the CIAA's 7th, 8th and 14th ranked rushers, respectively, in a balanced effort.
Zion Johnson, a sophomore from Woodbridge, led the defense with eight tackles. Will Adams, a junior from Henrico's Hermitage High School, contributed an interception.
While the Trojans played solid defense against Bowie State, they were unable to sack the Bulldogs' elusive quarterback Ja'Rome Johnson. Given time, Johnson threw for three touchdowns.
The loss leaves VSU a game behind both Bowie State and Virginia Union University, with three left on the regular season schedule.
The Trojans close with road games at Lincoln and Chowan University before returning to Rogers Stadium on Saturday, Nov. 9, to tangle with VUU.
VSU isn't without hope, but it will need help to qualify for the Nov. 16 CIAA Championship in Salem.
VUU would need to defeat Bowie State this Saturday. VSU then would have to win out, including a victory over VUU on Nov. 9.
That could force a three-way tie for the CIAA Northern Division title.
Also, there is the outside chance the Trojans could qualify for the NCAA playoffs with an 8-2 worksheet.
Through four seasons, VSU is 28-10 overall under Coach Barlow and 19-6 against CIAA opponents. Coach Barlow was the successor at VSU to Coach Latrell Scott, who is now coaching at Norfolk State University.