VSU wins big at homecoming
Fred Jeter | 10/25/2018, 6 a.m.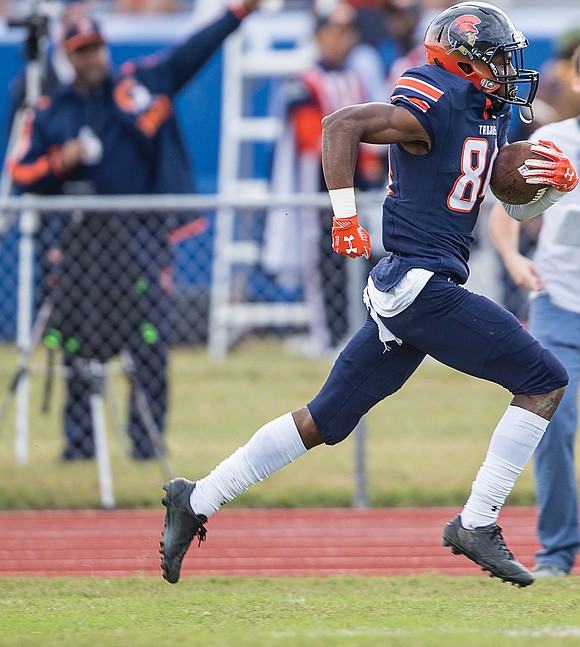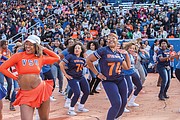 Virginia State University's homecoming also served as a coming out party for Jemourri La Pierre.
The freshman wide-out went from unknown to unstoppable in the Trojans' 54-7 romp last Saturday over visiting Lincoln University of Pennsylvania before a crowd of 5,012 fans at Rogers Stadium in Ettrick.
In his first significant action, the former L.C. Bird High School athlete caught five passes for 119 yards and three touchdowns — his first three as a collegian — including a show-stopping 76-yard touchdown.
La Pierre also looms as a track standout in orange and blue. Last spring, La Pierre, along with his twin brother Javon, paced L.C. Bird High to the State 5A track crown.
La Pierre posted personal bests of 11.05 seconds for 100 meters, 22.04 for 200 meters and 22 feet, 11¾ inches in the long jump. Jemourri and Javon both ran on Bird's state championship 4x100 relay, clocking 41.6.
The lopsided CIAA football contest offered VSU fans a peek into the future, and the future is rosy.
Coming off the bench to relieve standout starter Cordelral Cook, junior quarterback Nick Winston took his share of bows. Winston hit four of six passes for 105 yards, with the 76-yarder to La Pierre the highlight.
Like La Pierre, Winston has local roots.
Winston starred at Lee-Davis High in Mechanicsville and originally signed with Norfolk State University Coach Latrell Scott, who formerly coached at VSU.
Winston transferred to VSU this season from NSU and looms as the heir apparent to Cook next year.
While VSU fans were thrilled with the action-packed homecoming victory, they frowned at what was going on in Richmond.
Bowie State University's victory last Saturday over Virginia Union University virtually eliminated the Trojans from the CIAA Northern Division title. VSU was hoping a VUU win over Bowie State might force a three-way tie, then a string of tiebreakers might roll VSU's way.
Now it seems Coach Reggie Barlow's Trojans and VUU are vying for second place in the Northern Division. VSU plays host to Chowan University on Saturday, Oct. 27 — kickoff is 2 p.m. — and closes at VUU on Saturday, Nov. 3.
Chowan's quarterback, Bryce Witt, hails from nearby Dinwiddie. The Hawks flexed their muscles three weeks ago by upsetting Bowie State.
VSU is especially tough at home. The Trojans are 23-6 overall under Coach Barlow in three seasons and 11-1 at Rogers Stadium. The only VSU loss in Ettrick was to West Georgia last November in the NCAA Division II playoffs.