VUU Panthers meet VSU Trojans Saturday at Hovey Field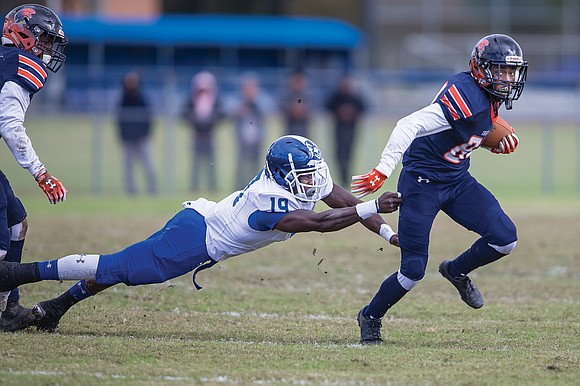 Upcoming football games
Saturday, Nov. 3
Virginia Union University to play Virginia State University at Hovey Field.
Kickoff: 1 p.m.
Elizabeth City State University to play at Bowie State University, Kickoff: 1 p.m.
Lincoln University of Pennsylvania to play at Chowan University. Kickoff: 1 p.m.
Saturday, Nov. 10
CIAA championship game in Salem
to be broadcast on ASPiRE TV.
Saturday, Nov. 17
NCAA Division II playoffs start
Note: Fayetteville State University has clinched the CIAA Southern Division title for the second year in a row. The Broncos are 5-1 overall, 4-0 in CIAA. Two games were canceled earlier in the season because of Hurricane Florence.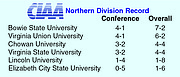 Virginia Union University football Coach Alvin Parker feels like his team has taken an unfair beating — not on the field, mind you, but in the polls.
During preparations for his game against Virginia State University on Saturday, Nov. 3, Coach Parker learned late Monday that his Panthers had dropped from eighth in the NCAA Division 2 Super Region 2 poll to completely out of the Top Ten.
"We just disappeared," Coach Parker said. "It was the last thing we expected, and it's kind of got us in a funky mood."
The previous week, VUU was in eighth place — one spot out of the seven-team regional playoff field. The Panthers then added a decisive 53-0 victory last Saturday over Elizabeth City State University, while three schools ahead of them in the poll — Morehouse College, Carson-Newman University and Florida Institute of Technology lost.
"We've been given no excuses," Coach Parker said.  
Feeling momentum, the Panthers were excited about extending their season. VUU was banking on a win over VSU to vault it into NCAA postseason action on Saturday, Nov. 17. Now that's doubtful. Many factors would have to break right for VUU to rise to seventh in the poll conducted by the American Football Coaches Association, with results on the website www.d2football.com.
"It's hard being optimistic," Coach Parker said. "But as crazy as it was that we dropped out, maybe something just as crazy will get us back in."
VUU has been to the NCAA playoffs nine times previously, most recently in 2016 under Coach Mark James.
VUU Athletic Director Joe Taylor said, "I just hope it doesn't get our minds off Saturday's game" against Virginia State. "We can't lose focus. There are still challenges ahead."
Weekly review: VUU revved up for Rivalry Week, with a crushing 53-0 victory last Saturday at Elizabeth City State University. VSU lost to Chowan University 45-38 in Ettrick.
Bulldogs bite: Both VSU and VUU had their seasons derailed by Bowie State University and Bulldog No. 1 Amir Hall. All Bowie State has to do is defeat hapless Elizabeth City State University this Saturday, Nov. 3, to secure the Northern Division crown and a spot in the CIAA championship game on Saturday, Nov. 10, in Salem.      
Touchdown factory: Both VUU and VSU feature players highly skilled at reaching the end zone.
VSU quarterback Cordelral Cook, the "Cookie Monster," is like a two-headed Trojans' terror, equally adept at passing and running. The senior transfer from Alabama State University is fourth in the CIAA in passing (223 yards per game) and fifth in rushing (77.6 yards). He has thrown for 15 touchdowns and added nine more with his feet.