VSU to take on dreaded Bowie State after trouncing Elizabeth City State
Fred Jeter | 10/14/2021, 6 p.m.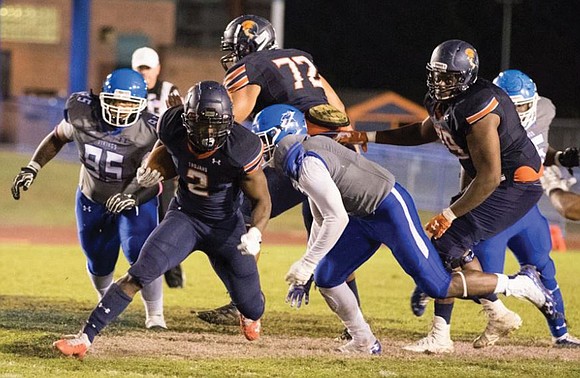 Virginia State University's football offense has sprung to life at just the right time.
Following a rousing 35-7 win last Saturday over Elizabeth City State University, the Trojans head to Bowie State University to face the dreaded Bulldogs.
Bowie State has become the Tom Brady of the CIAA Northern Division. Just as Brady has been synonymous with NFL dominance for years, Bowie State has ruled the Northern Division. Since 2015, the Maryland school is 34-4 against CIAA opponents, including 3-0 this go-round.
The Trojans are gaining traction after a sputtering September.
VSU scored only four touchdowns in its first three games this season, but has since defeated St. Augustine's University 33-9 and Elizabeth City State University last Saturday to creep back into the divisional discussion.
In dismantling Elizabeth City State at Rogers Stadium in Ettrick, the Men of Troy rolled up 22 first downs and 459 yards total offense.
VSU Coach Reggie Barlow had been searching for a quarterback to replace three-year starter Cordelral Cook (2017 to 2019), and he may have found two.
Alternating quarterbacks Jordan Davis and D'Vonte Waller passed for 285 yards and three touchdowns.
Darius Hagans ran for 58 yards and a touchdown and caught two passes for 59 yards and another touchdown. Upton Bailey, a freshman from Petersburg High School, raced for 58 yards on four carries.
Defensively, Zion Johnson made 12 tackles and Will Adams out of Hermitage High School in Henrico County had nine. Javon Frazier contributed 2.5 sacks.
Bowie State is coming off a tough road victory at Chowan University and features Ja'rome Johnson at quarterback. Johnson is no Tom Brady but he was the 2019 CIAA Offensive Player of the Year and a BoxToRow All-American.
If the Trojans are to make a run at the CIAA Northern Division title, they most likely will need to take a bite out of the Bulldogs and win the rest of the way.
VSU will return to Ettrick on Saturday, Oct. 23, for a 2 p.m. homecoming date with Lincoln University of Pennsylvania.