VSU looking to Saturday's homecoming; boost in win column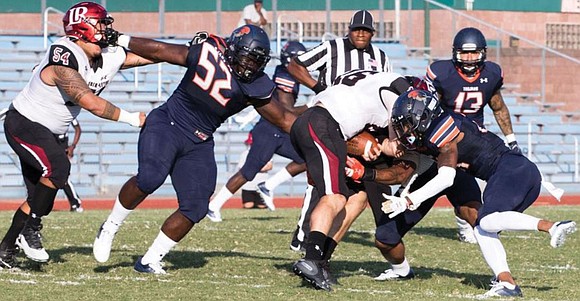 Virginia State University's returning alumni and friends could be in store for some offensive fireworks this Saturday, Oct. 23, at Rogers Stadium in Ettrick.
The Trojans will celebrate homecoming with a 2 p.m. game against CIAA opponent Lincoln University.
Coach Reggie Barlow's offense, now led by North Carolina Central University transfer quarterback Chauncey Caldwell, has been on fire as of late.
Despite an agonizing 51-44 loss at CIAA powerhouse Bowie State University last Saturday, the Trojans amassed 21 first downs, 505 yards total offense and 366 yards rushing. And that doesn't even count Andre Jackson's 93-yard touchdown kickoff return.
After trailing 21-0, the Trojans figured out the Bowie State defense and attacked and attacked.
VSU running back Darius Hagans rambled for 199 yards on 22 carries. And Caldwell, in what amounted to his VSU coming out party, threw for four touchdowns, including a pair to Marquez Phillips.
Upton Bailey, the exciting freshman from Petersburg, raced 80 yards with a 74-yard touchdown. The previous week, Bailey went 58 yards, with a 28-yard touchdown, on only four totes.
Caldwell also tossed touchdown aerials to Tylin Oden and Roy Jackson III.
A native of Durham, N.C., Caldwell started eight games for his hometown school, North Carolina Central University, throwing 19 touchdown passes for the Eagles. He played two full seasons at Central before announcing he would transfer after the opening game of his junior year.
Previously, Coach Barlow had rotated Mark Wright, Jordan Davis and D'Vonte Waller at quarterback.
Slow out of the blocks, VSU scored 7, 7 and 14 points in its first three games. Since then, the point totals have been 33, 35 and 44.
Will Adams sparked the Trojans' defense with seven tackles plus an interception. The Trojans likely have been eliminated from the CIAA Northern Division race, but still hope for a winning season and the chance to finish with a flurry.
Following the homecoming game against Lincoln, VSU will finish with a home date against Chowan University and a trip to Richmond to meet Virginia Union University on Nov. 6. Lincoln comes to Ettrick 1-6 overall but feeling good about last Saturday's 17-14 homecoming win over Elizabeth City State University.
Based on history, VSU is a prohibitive favorite to add the Lincoln Lions to the win column. Since 2011, VSU is 9-0 against Lincoln with a 36-point average winning margin.