VSU looking toward postseason with string of wins
10/27/2017, 6:29 a.m.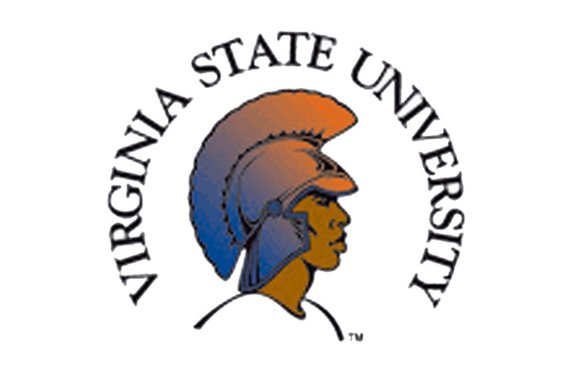 Virginia State University continues to dominate CIAA football about every way possible — on the field, in the standings and also statistically.
Coach Reggie Barlow's Trojans are headed to Chowan University in North Carolina on Saturday, Oct. 28, with seven straight wins this season and 11 consecutive victories over two years combined.
VSU's most recent triumph was a 73-21 win on Oct. 21, at Lincoln University in Pennsylvania. The Trojans amassed 699 yards total offense.
The Trojans led 46-7 at intermission in a classic mismatch between the top and bottom teams in the CIAA Northern Division standings. Reaching the century mark might have been attainable if Coach Barlow hadn't emptied his bench. During the past three seasons, VSU has defeated the toothless Lions by a combined 171-28.
VSU's 7-0 record represents its best start since 1970, when NFL bound lineman Larry Brooks was wearing the orange and blue for Coach Walter Lovett.
The 73 points against Lincoln are the most since the 1970 squad pummeled Hampton University 85-2.
The Trojans moved up to No. 3 in the NCAA Division II Super Region 2, behind Wingate University and the University of West Alabama. The top eight schools advance to the NCAA Division II playoffs starting Nov. 18 at various campus sites.
VSU has three remaining regular season games — at Chowan this weekend, against Virginia Union on Saturday, Nov. 4, and then on short rest against Shaw University on Thursday, Nov. 9.
If all goes well, VSU will have less than 48 hours to prepare for the CIAA championship on Saturday, Nov. 11, in Salem.
If any team seems capable of three wins in eight days, it's these Trojans, led by quicksilver quarterback Cordelral Cook and scintillating tailback Trenton "Boom" Cannon. Both Cook and Cannon are bona fide CIAA Player of the Year candidates, along with Bowie State University's Amir Hall.
A transfer from Alabama State University, Cook is essentially the Lamar Jackson of NCAA Division II, meaning he's capable of beating you with multiple methods.
Jackson, now a senior at the University of Louisville, won the Heisman Trophy last year on the strength of his running and throwing expertise. Cook must have taken notes.
Against Lincoln University, Cook passed for 152 yards and ran for another 102. Cook now has a conference best 14 rushing touchdowns and is averaging 8.7 yards per carry.
Cannon exploded for 253 yards and three touchdowns at Lincoln and leads the CIAA in rushing with 1,116 yards and a whopping 8.9 average.
A Hampton native and VSU transfer student from Shepherd University, Cannon now has 3,508 yards in less than three seasons. He is just 67 yards behind the Trojans' all-time rusher George Leonard from Petersburg High School, who piled up 3,575 yards in 1976 through 1979.
With 37 rushing touchdowns, Cannon also is nearing the VSU record of 41 set by Bo Morgan from 1993 through 1996.
The Trojans sparkle in virtually every category on the stat sheet. They have scored 323 points to their opponents' 117. They have 2,071 rushing yards compared to just 599 by their opponents. In total offense, it's VSU 3,562; opponents 1,992.
Some credit should go to veteran Athletic Director Peggy Davis, who faced the task of hiring three coaches over a four-year span.
Clearly, Davis knows a winner when she interviews one.
The Trojans are a combined 41-9 since 2013 under Coaches Latrell Scott (now head coach at Norfolk State University), Byron Thweatt (now assistant coach at FCS champion James Madison University), and now Barlow, the former NFL receiver who coached previously at Alabama State.