VSU takes winning streak on the road
Fred Jeter | 9/29/2017, 7:17 a.m.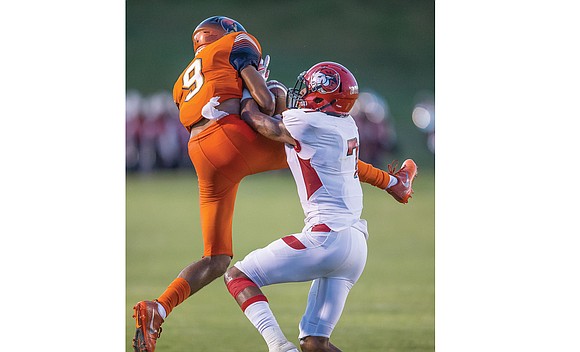 Hot will meet cold this week in Salisbury, N.C., as Virginia State University, one of the NCAA Division II's hottest football programs takes on struggling CIAA football rival Livingstone College on Saturday, Sept. 30.
The Trojans improved to 3-0 overall — and 2-0 in the CIAA — following a jittery 33-27 overtime victory last Saturday over visiting Winston-Salem State University, the two-time defending CIAA champion.
Winston-Salem State (2-2).
VSU Coach Reggie Barlow's momentum-fueled outfit now has seven consecutive wins dating to his 2016 maiden season in Ettrick.
Contrasting that, Livingstone College is 0-4 this season and has dropped seven in a row going back a year.
Kickoff is 6 p.m. at Alumni Memorial Stadium in Salisbury, N.C.
The home team hopes for better results than a year ago, when VSU routed the Blue Bears 47-0 at Rogers Stadium in Ettrick.
Overcoming some gaffes by its special teams last Saturday, VSU leaned on its "Kecoughtan connection" and an overwhelming offensive performance to deny Winston-Salem State and avenge a road loss to the Rams last year.
Winston-Salem State is now 2-2 this season.
Trenton Cannon, a VSU senior from Hampton's Kecoughtan High School, was the usual star — rushing for 144 yards and two touchdowns and snagging passes for 52 more yards.
Not so accustomed to the spotlight is Thomas Koufie, a former teammate of Cannon's at Kecoughtan High in Hampton. A double transfer from Foothills College in California and University of Louisiana at Monroe, the bullish, 225-pound Koufie rumbled 17 yards for the winning touchdown in overtime, igniting unrestrained celebration on the field and in the bleachers.
Cannon, who is on pace to become VSU's all-time rusher, now has 2,860 yards in two-plus seasons. He is chasing the record of 3,575 set by George Leonard from 1976 through 1979.
Cannon set the Trojans' single-season record in 2015, then broke his own mark a year ago.
VSU accumulated 587 yards total in offense, compared to 354 yards for Winston-Salem State, with quarterback Cordelral Cook passing for 131 yards and rushing for another 115.
Late in the first half, Cook showcased his speed, bolting for a 76-yard touchdown run, a rare feat for a quarterback.
There was no shortage of late-game heroics or unusual circumstances. The game was delayed at least 15 minutes in the second half because of a power outage in two light towers.  
On the brink, the Trojans tied the game at 37 with 40 seconds left on a Cannon 3-yard rush and Cook's 2-point conversion.
VSU had trouble pulling away in part because of two missed extra points and two missed field goals by Cesar Alfaro. VSU also had a bizarre touchdown on a deflected pass caught by tackle Jamonte Spriggs that was voided by penalty.
As a program, VSU is enjoying a five-year roll.
The Trojans are 37-10 since 2013 under coaches Latrell Scott, now head coach at Norfolk State University, Byron Thweatt, now assistant coach at FCS champion James Madison University, and Barlow, who came to VSU following a stint at Alabama State University.
VSU travels to Elizabeth City State University on Saturday, Oct. 7, and returns to Rogers Stadium on Saturday, Oct. 14, to celebrate homecoming against defending CIAA Northern Division champion Bowie State University, the last team to defeat the Trojans.