Robert 'Fat Rob' Kelley is growing his skills
8/4/2017, 9:46 a.m.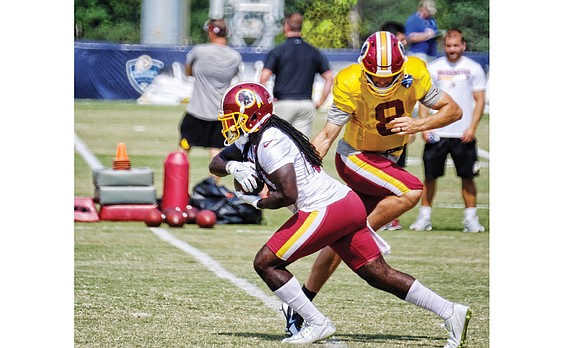 NFL history is flavored with running backs with colorful nicknames suggesting stardom.
Examples include "Rocket" (Raghib Ismail),  "Beast Mode" (Marshawn Lynch), "Kansas Comet" (Gale Sayers), "Diesel" (John Riggins)," "Mercury" (Eugene Morris), "The A Train" (Mike Alstott) and "The Jet" (Joe Perry).
That said, the future of the NFL Washington franchise ground game may rely on a back with this flattering tag — "Fat Rob."
Robert Kelley, No. 1 on Washington's depth chart as the team's training camp continues at Bon Secours Training Center in Richmond, has answered to the moniker since toting the pigskin for his hometown school, Tulane University in New Orleans.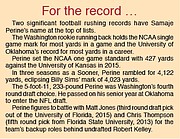 Now 24, Kelley was undrafted coming out of Tulane, where he had a checkered career, on and off the gridiron, as well as possible eating issues.
Now checking in at a more svelte 225 pounds, the 6-foot Kelley concedes he tipped the scales at 249 pounds as a senior at Tulane, where he was dubbed "Fat Rob" by assistant Coach David Johnson.
Good-naturedly, Coach Johnson presented Kelley with a backpack engraved with "Fat Rob" and the name stuck.
Later, Coach Johnson said the tag was as much about Kelley's "big heart" as his ample waistline.
Kelley is no stranger to hard times. When Kelley was a child, his family lost their home to Hurricane Katrina in August 2005 in New Orleans' ravaged 9th Ward. Coming out of Tulane with little fanfare, he found himself facing long odds at making Washington's roster. 
Washington Coach Jay Gruden noted Kelley was "about ninth string" entering the 2016 camp at the Bon Secours Training Camp.
Now it's 2017, and Kelley is clearly atop the depth chart following a rookie season in which he raced for 704 yards, six touchdowns and a stout 4.2 yards per carry rushing average.
His rookie statistical record also included 12 receptions for 82 yards and one touchdown. His biggest play was a 137-yard, three-touchdown head turner in D.C.'s 42-24 dismantling of the Green Bay Packers.
So what does "Fat Rob" do for an encore?
"Elevating my game is more about the little things," he said, following a morning walk-through at Bon Secours. "I need to improve on my blocking and pass catching. It's not all about just trying to break the next big run."
Albeit based on a small sample size, Kelley's 4.2 yard rushing average is no small feat. Two of the most revered backs in Washington lore are Larry Brown and John Riggins. Brown's career average was 3.8 yards; Riggins, 3.9.
"With our offensive line, if you read your blocks right, you ought to at least get three or four yards each time," Kelley said.
Kelley's Tulane career didn't indicate future NFL stardom, except maybe on the arena football level. He was suspended in 2014 because of academics and a charge against him for stealing a bicycle. The charge later was dropped.
As a senior in 2015, he ran for a modest 232 yards on 65 carries, failing to earn any All-Conference USA honors or an invitation to the NFL Combine.
Minus a glitzy college résumé, he may have caught Washington's attention during his Pro Day in March 2016. He signed as a free agent with Washington in May 2016, creating hardly a ripple of interest.
But you just never know.