Dynamo Chris Thompson looking for healthy season with Washington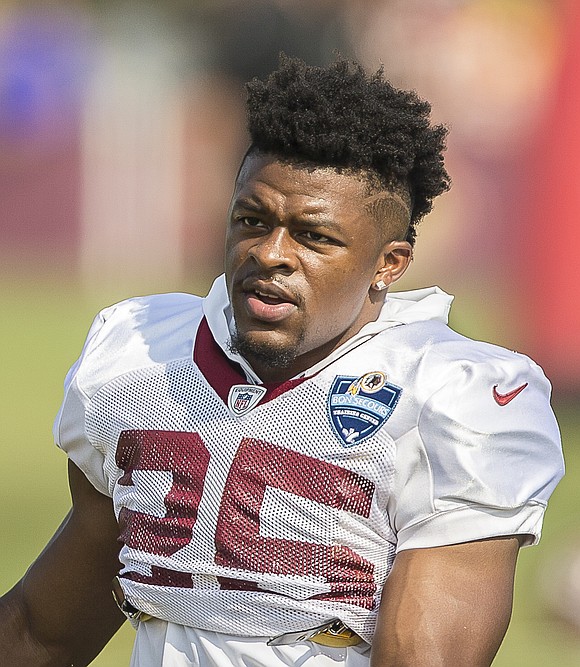 Chris Thompson stands just 5-foot-8, but don't sell him short.
The diminutive dynamo spells double trouble as a ball carrier and receiver for the Washington NFL team, but not necessarily in that order.
Thompson is on the comeback trail after suffering a fractured fibula last November.
With the exception of new quarterback Alex Smith, who replaces the departed Kirk Cousins, Thompson may be the most analyzed player during Washington's practices at the Bon Secours Training Center. The training camp continues in Richmond through Aug. 14.
Thompson is like a two-for-one special for the burgundy and gold. At times last season, he was Washington's best running back and top receiver in jersey No. 25.
"CT," as Thompson is called, was leading the team in rushing (64 carries, 294 yards), receiving (39 catches, 510 yards) and touchdowns (six) before breaking his leg in the 10th week of the 2017 season.
He's also a highlight-reel hero, as evidenced by a 61-yard touchdown run and 74-yard touchdown catch.
Much of Thompson's heavy lifting comes on third downs in the Washington attack.
"CT's one of the most valuable members of our offense, and he may be the best third down back in the NFL," Washington Coach Jay Gruden told the Free Press.
Thompson concurs that he's something of a third down specialist both as a runner, often on draw plays, or snagging short passes, frequently screens.
The goal on pass plays is to match him against a slower linebacker.
Gifted with exceptional quickness and change-of-direction skills, Thompson is apt to leave defenders with an armful of nothing more than air.
"They're paying me to win one-on-one matchups and make plays and be the spark, especially on third down," Thompson said following a morning practice. "I'm supposed to make plays. That's what they're paying me for."
A fifth round draft choice out of Florida State University, Thompson played only a little during his first two NFL seasons. He turned the corner from special teams player to bona fide offensive sparkplug in 2015.
Thompson was enjoying an All-Pro caliber season in 2017 before breaking his leg trying to block 305-pound pass rusher Sheldon Rankins in Washington's loss to the New Orleans Saints.
It wasn't Thompson's first NFL injury. During his rookie season in 2013, he had surgery to repair a torn labrum in his shoulder.    
Because of his small stature and the fact he's coming off surgery, Thompson isn't likely to be the featured back on first and second downs despite his career 5.2 yards per carry norm that's based on a relatively small sample size of 170 carries.
There are at least three solid candidates for the more bruising romps between the tackles:     
Samaje Perine (233 pounds, second year out of the University of Oklahoma): Ran for 603 yards as a rookie, 3.4 average.
Rob Kelley (229 pounds out of Tulane University): In his third season with the team, ran for 194 yards (3.1 average) before being sidelined with ankle/knee injuries.
Derrius Guise (218 pound rookie from Louisiana State University): The second round draftee is a fan favorite and will receive a long look as a primary carrier.
But on third downs, expect Thompson to enter the fray with his 5-plus yards per carry norm and fancy feet in the open field.
As long as Thompson remains healthy, Washington's 2018 pigskin forecast suggests some sunshine and blue skies.