Peterson out, Gibson in as Washington NFL team's feature back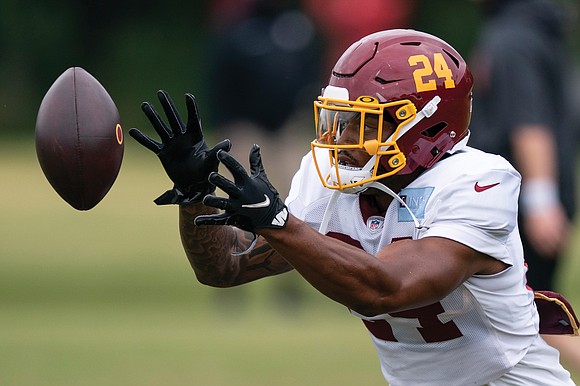 The Washington NFL team is handing the ball — and perhaps its foreseeable future — to a little-known rookie.
In doing so, the D.C. franchise has bid farewell to one of the game's premier all-time ball carriers and a sure future Hall of Famer.
In a Sept. 4 move that rattled the NFL's foundation, Washington released Adrian Peterson, preferring newcomer Antonio Gibson, and perhaps other options, as its featured back.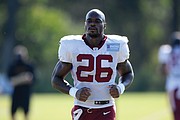 "It was a shock to me to say the least," Peterson told The Washington Post.
The 35-year-old made it clear he's nowhere near ready for the rocking chair. His agent's phone began ringing as soon as Washington handed him his pink slip.
"This is another opportunity for me to further prove myself," Peterson said. "It's unfortunate they let me go, but it'll be their loss, in my mind, and it'll be another team's gain."
Peterson wasn't unemployed long. Less than 48 hours after Washington showed him the door, he signed a one-year contract with the Detroit Lions.
He figures to build on his career totals wearing the Lions' blue and silver jersey. Peterson has 14,216 career rushing yards, fifth on the all-time list.
He said earlier in D.C. training camp he has several years left and hopes to make a run at Emmitt Smith's NFL career rushing record.
Far from finished, Peterson accumulated 1,940 yards on the ground the past two seasons wearing jersey No. 26 for a Washington team that had serious offensive line problems.
By contrast, Gibson, 22, will be looking for his first pro yard — or first pro anything — when Washington opens at home Sunday, Sept. 13, against the Philadelphia Eagles.
Because of an absence of exhibition games or intrasquad scrimmages this season, Washington fans have yet to see No. 24 in a competitive setting.
A native of Georgia, the 6-foot-1, 228-pound Gibson was primarily a wide receiver at East Central Community College in Decatur, Miss., and at the University of Memphis. This past season, he caught 38 passes for 735 yards and eight touchdowns for Memphis. He ran 32 times for 369 yards and four touchdowns.
The third round draft choice may be first-year Washington Coach Ron Rivera's kind of back—meaning a dual threat as rusher and receiver.
Coach Rivera had great success with the Carolina Panthers with dual-threat Christian McCaffrey, who ran for 1,387 yards and caught passes for 1,005 yards a year ago.
Gibson displayed both speed and strength at the 2019 NFL Combine. He ran the 40-yard dash in 4.39 seconds, did a 9-foot-10 standing broad jump and made 16 bench-press repetitions at 225 pounds.
But Washington isn't putting all its pigskins in Gibson's basket. Another "McCaffrey-type" performer is versatile newcomer J.D. McKissic, 27, who played last season in Detroit.
Also in the picture is Bryce Love, the former Stanford University standout who missed his rookie season in 2019 with a knee injury.
Washington's running game looks much different now than just a few weeks before. Heading into training camp, Peterson and Derrius Guice were expected to carry the rushing load. But Guice was dismissed because of off-field legal issues and now Peterson has been sent packing.
Gibson may be the next McCaffrey and help Coach Rivera's first edition Washington team to the playoffs.
But one thing is for sure: No. 26 is a tough act to follow.