Delays still plague Bon Secours' East End expansion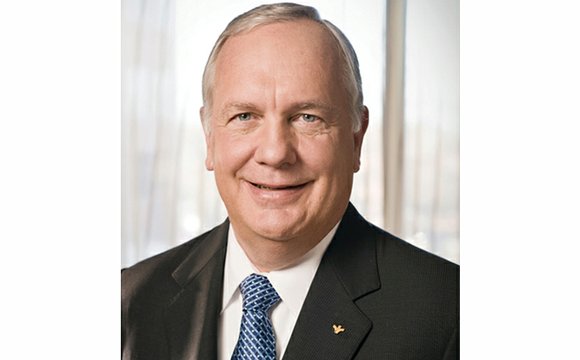 Bon Secours Virginia CEO Peter J. Bernard is scheduled to retire Aug. 31 after leading the health care giant for the past seven years.
One of his signature community projects — the Washington professional football team's training camp sponsored mostly by Bon Secours — is now underway at the team's facility behind the Science Museum of Virginia.
Bon Secours officials also announced Wednesday their partnership in a project to build a state-of-the-art playground on city-owned property on Fairfield Avenue.
However, nearly three years after its announcement, not a shovel of dirt has been lifted on Bon Secours' much-trumpeted $8.5 million expansion of Richmond Community Hospital at 1500 N. 28th St.
Mr. Bernard contractually committed Bon Secours to the East End hospital project as part of the D.C. team training camp agreement with the city.
Bon Secours agreed to add at least 25,000 square feet of medical space around Richmond Community Hospital as part of its training camp sponsorship deal with the city, first announced in October 2012.
At an economic summit in Chuch Hill in June 2014, Mr. Bernard told the Free Press he expected groundbreaking on the project before the end of 2014.
As of this week, all that currently sits at 2600 Nine Mile Road, the site touted as the future home of the Bon Secours Center for Healthy Communities, are a crumbling former gas station and car wash once known as F.L. Parsley Gas Co. Three blue Bon Secours banners have hung at the site for months, promising, "Good help is coming soon."
And it appears the blighted property will remain that way for the foreseeable future. Nearly a year and a half after gaining the authorization from its board of commissioners to sell more than a dozen parcels of land to Bon Secours along the Nine Mile Road corridor for the project, the Richmond Redevelopment and Housing Authority has yet to complete the transfer to Bon Secours, according to RRHA spokesperson Valena Dixon.
"RRHA has not transferred (all) the parcels to Bon Secours as work continues on a development plan for the Nine Mile Road properties," Ms. Dixon told the Free Press in response to a query.
While Mr. Bernard did not respond to a Free Press query about the lengthy project delay, Michael Robinson, Bon Secours Virginia's senior vice president of operations whose role includes overseeing Richmond Community Hospital, told the Free Press at Wednesday's playground announcement, "There are still some property issues to be worked through, but most are resolved. I think we're making great progress."
Cynthia I. Newbille, whose 7th District encompasses the Nine Mile Road project, said, "I'm looking at digging dirt (at the site) before the end of the year."
Mr. Robinson said the entire project will include a community resource center at the site of the former gas station and car wash, a park, as well as outpatient medical offices. He said Bon Secours also hopes to have a grocery store near the hospital as part of the expansion plan.
On Wednesday, Bon Secours officials joined Washington NFL team owner Daniel Snyder, Mayor Dwight C. Jones and Richmond Public Schools Superintendent Dana T. Bedden to mark groundbreaking on the state's first Play 60 Playground.
Bon Secours is donating $50,000 in partnering with the Washington team's charitable foundation to build the $150,000 playground to be located at 2535 Fairfield Ave. behind Woodville Elementary School.
Project officials call it a state-of-the-art playground made of AstroTurf that combines elements of the NFL Combine and the American Ninja Warrior TV show. The facility will have activity stations including a 40-yard dash with a timing device, ninja steps, floating boards, a U-turn ramp and traverse walls.