Pryor among string of QBs who play the field
Fred Jeter | 8/25/2017, 6:52 p.m.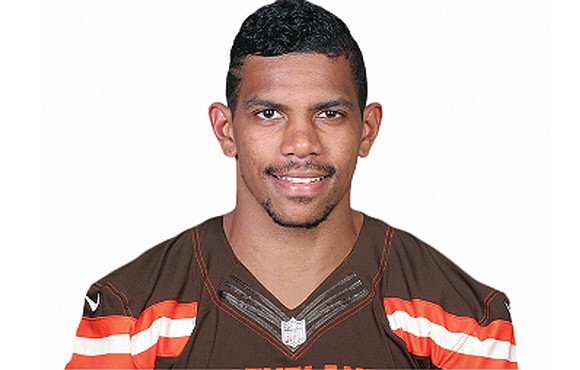 Terrelle Pryor first earned national football stardom throwing passes. Now he specializes in catching them.
Pryor is the latest example of an athletic quarterback changing to another position in the NFL.
The 6-foot-4, 230-pounder still wears a quarterback's number — No. 11 — but he lines up at wide receiver for his current NFL team in Washington.
Pryor, 28, was a standout quarterback at Jeannette Senior High School near Pittsburgh, Pa., and at Ohio State University. He was picked by the Oakland Raiders in the third round of the 2011 draft.
After so-so success as an NFL quarterback, he switched — on his own accord — to being a receiver last year with the Cleveland Browns. He quickly found his niche.
"If you enjoy the game, you always need to find a way to stay on the field," Pryor told the media following a workout at the Bon Secours Training Center in Richmond.
"Find a way to continue playing until you either go out on your terms or you get kicked out because nobody wants you anymore."
In his first full season as receiver a year ago with the woeful 1-15 Browns, Pryor snagged 77 passes for 1,047 yards and four touchdowns.
He was signed by Washington as a free agent in March in an effort to fill the receiving void left by DeSean Jackson and Pierre Garcon, who exited D.C. as free agents.
Pryor inked a one-year deal for $8 million with Washington that has been called a "prove it contract" — meaning prove what you can do before getting a long-term pact.
Through the decades, many highly successful African-American college quarterbacks moved to other positions in the NFL for a host of reasons, including narrow-minded views on the part of management.
Today, the position transition now is more about getting the best athletes on the field in some capacity.
Pryor certainly qualifies as a all-around athlete.
In a career featuring two Big 10 titles at Ohio State, he passed for 6,177 yards and 57 touchdowns, and ran for 2,164 yards and 17 touchdowns.
At Jeanette High, he was both a football and basketball Parade All-American, and first committed to play basketball at the University of Pittsburgh before opting for football and OSU.
---
Here's a look at some other African-American college quarterbacks who found NFL fame at other positions on the field:
Marlin Briscoe: The NFL's first starting black quarterback (with Denver, 1968) moved to wide receiver and became an All-Pro with Buffalo (1970); finished with 30 career touchdown catches.
Willie Wood: After becoming the first black quarterback at Southern California, Wood went on to become an NFL Hall of Fame safety and two-time Super Bowl winner with Green Bay.
Eldridge Dickey: Out of Tennessee State, Dickey was the first black quarterback ever drafted in the first round (Oakland, 1968); quickly converted to receiver-kick returner and never took an NFL snap at quarterback.
James McAlister: Was a star quarterback at UCLA and also a world class long jumper. Drafted by Oakland (1971) but spent four NFL seasons at running back; had 677 yards rushing and five touchdowns.